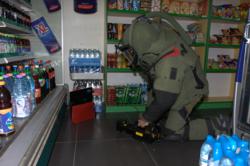 Vidisco DR (Digital Radiography) systems will assist Norwegian police to prevent terror and ensure the safety of the citizens.
(PRWEB) January 31, 2013
The renowned Norwegian magazine "Aftenposten" claims Norwegian Police Will Reveal Terror Using Vidisco DR Systems.
New tools are constantly being developed in order to fight against terrorism worldwide. As Israel is the world's market leader in combating terrorism, it is no wonder that DR systems that have been used to prevent a series of terrorist attacks in Afghanistan, Iraq and Israel have been purchased by Norwegian Police.
Operated by low energy doses and using pulsed X-ray, Vidisco's DR systems serve as an answer to terrorist organizations' homemade bombs which trigger and explode if exposed to high X-ray doses.
Using such an advanced system allows an extremely high image quality, making it easier to detect what the suspect object holds inside it. In addition, the equipment is 100% portable, easy to operate on the field and allows distinction between organic and non-organic materials. Among the safety advantages of the system are a single approach to the suspect object, wireless operation and a lower health risk to the bomb squad crew.
Hopefully, the new system will assist Norwegian police bomb squads to successfully prevent terror and ensure the safety of the citizens.