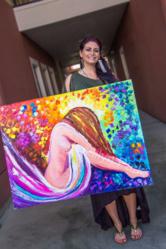 I'm excited to return home and bring something different to Brevard.
Melbourne, Florida (PRWEB) January 30, 2013
Jessilyn Park, who grew up in Palm Bay, Florida, returns to Brevard County to co-host ADORN, Brevard's first business professionals party. Jessilyn will paint live during the event, and use inspiration from the scenes around Brevard County to produce bright and powerful paintings.
The event, held at Lexi Martini Bar, this Friday, February 1st (located at 924 E. New Haven Avenue, Melbourne, FL 32901) will offer drink specials and play old school Hip Hop and R&B. This event is the first of its kind in Brevard County. Jessilyn teamed up with Brian Goins to bring this classy, upscale event to Brevard. Brian is the premiere party coordinator in Brevard County and has been in the entertainment industry for over five years. He is known for providing high quality events throughout Brevard County.
Jessilyn Park, being dubbed the "Painter of Positivity" creates art that uses bright, feel-good colors that evoke a sense of happiness to those that look at her art. Recently, an international art collector in Germany sought her out specifically for her painting Reflection of the Soul because he said it felt "powerful and positive".
"I'm excited to return home and bring something different to Brevard," Jessilyn says. "It's always fun coming home anyways, but this time it's to perform. I can't wait."
If you're looking for something different in Brevard, don't miss this event. ADORN is sure to please and caters to the business professionals of Brevard. Live art, smooth and vibrant jams, drink specials, and upscale venue at Lexi Martini Bar.