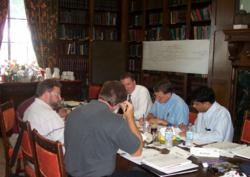 This three-day workshop is hands-on and delegates leave with skills that enable them to begin documenting and improving processes immediately.
Dayton, OH (PRWEB) January 31, 2013
The Ben Graham Corporation announced today that it is offering a three-day "Building Better Business Processes" workshop, March 27-29 at the Dayton Engineers Club. The workshop will focus on providing the attendees with skills necessary to facilitate successful process improvement projects. The workshop will be conducted by Dr. Ben S. Graham Jr. and Ben B. Graham at the Dayton Engineers Club that once served such noted inventors as Orville Wright, Charles Kettering, Colonel Edward Deeds and others. The workshop includes lunch each day in the Club's fine dining room plus morning and afternoon refreshments. The Grahams bring a combined seventy-five years teaching and consulting in process improvement and have worked with people from over 3,000 organizations throughout private industry and government.
This three-day workshop is hands-on and delegates leave with skills that enable them to begin documenting and improving processes immediately. While there is a high level of interest in process improvement these days, the importance of documenting existing processes is routinely underestimated and the skill required to do it quickly and effectively is often lacking. This is an area where the software and methods training provided by the Ben Graham Corporation can provide tremendous benefit.
Experienced analysts will enhance their toolkit with the unique process mapping method that accounts for all the records in a process along with who does the work, where the work is done and how the records affect each other. They will also take away an organized collection of forms and checklists that guide them through a proven improvement method. Those new to process improvement will develop their process improvement skills quickly - and once they are up to speed they will be able to chart any process in their organization, typically in one day or less.
Delegates learn to organize and guide teams through process improvement projects. They draw several process maps to become familiar with mapping as the principal tool of the improvement methodology. Then they analyze a process map and develop a new, improved process, addressing all the phases of an improvement project. They leave the workshop with a binder of materials a book of improvement-related articles, a copy of Ben B Graham's book, "Detail Process Charting: Speaking the Language of Process" and enthusiasm to put their newly acquired skills to work.
Ben B. Graham, President of the Corporation said, "Our methods provide a structured approach to help people simplify their work quickly -- saving time and dollars. Our goal is to provide participants with skills that will help them understand, improve and manage their business processes."
The Graham Process Improvement method helps organizations simplify work processes, increase productivity and reduce costs.
Register for the "Building Better Business Processes" workshop online or call the Ben Graham Corporation at 937-667-1032.
About the Ben Graham Corporation
The Ben Graham Corporation, a pioneer in the business process improvement arena celebrates its 60th year conducting process improvement workshops. They have conducted workshops on four continents, educating delegates from around the world, representing a broad variety of industries as well as government at all levels. They introduced Graham Process Mapping Software in 1990 and it is helping organizations worldwide build better business processes.