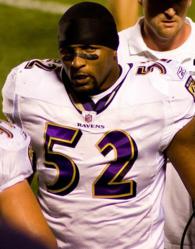 I'm going to be looking to build my muscles back much, much stronger and much quicker
TORONTO, ON (PRWEB) January 31, 2013
Shortly after Lewis – a top league linebacker – sustained a terrible torn tricep in only week six of the season, he needed to come up with a recovery plan. A seasoned veteran, Lewis understood the importance of nutrition in injury rehabilitation. And, ultimately, he was looking not only to heal, but to improve as well.
"I'm going to be looking to build my muscles back much, much stronger and much quicker," said Lewis. He embarked on the ViSalus Body by Vi Challenge and recovered well from his injury. It was hard to argue with the results when Lewis made a huge comeback in the wildcard game against the Indianapolis Colts.
Lewis chose ViSalus nutrition as the cornerstone to his nutrition plan to get him back on the playing field. The core of the ViSalus nutrition kits are its healthy meal replacement shakes. Lewis predicted the shakes would "take [him] to a totally, totally different level."
The results speak for themselves. Since Lewis's return to the team, the Ravens have had one dominant playoff performance after another. Remarkably, Lewis has completed 44 tackles in his last three games.
Even more impressive? This is the lightest Ray Lewis has weighed throughout his entire career. At 235 lbs., Lewis exclaims, "'It's awesome, I feel great." Playing at between 250 lbs. to 260 lbs. for most of his career, this is significant weight loss for a player who has always been fanatical about physical conditioning.
For more about the ViSalus 90-Day Challenge,to lose weight and build muscle, visit http://www.bodybyimpact.myvi.net and find out how to buy ViSalus. Impact Fitness Inc. also offers a complementary ViSalus 90-Day fitness and nutrition program to all new customers who sign up for the challenge.
About Impact Fitness Inc.
Impact Fitness Inc. is one of the nation's leading resources for the latest news and fitness information., providing workout programs, nutritional advice and unbiased product reviews for men and women who are interested in looking and feeling better.
For more information:
Sarah Selhi, director of marketing
Impact Fitness Inc.
416-850-7888
http://www.impactfitnessinc.com/