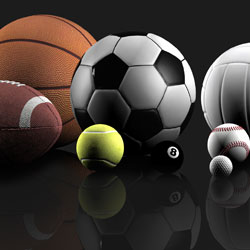 People are becoming more and more concerned about the holistic care of athletes. It's a big issue in the 21st century.
Dayton, Ohio (PRWEB) January 31, 2013
Sports are so much a part of American culture that they help define who and what we are as a society. Dr. Harold Hudson, Associate Dean of Doctoral Studies and VP of Enrollment at United Theological Seminary, has assembled a team of educators to develop a new program that will address holistically a populace that has previously been underserved: Our world's athletes.
The program, United's Doctor of Ministry in Sports Chaplaincy program, will launch in August 2013.
"When we think about athletes, we first think about the physical body, and then the toughness of that body," said Dr. Steven Waller, associate professor in the department of Kinesiology, Recreation and Sports Studies at the University of Tennessee – Knoxville. "In the last decade, more and more athletic directors working with teams have come to understand the value of caring for the spirit of the athlete as well."
Sports chaplains associated with professional or college teams help athletes to become more well-grounded, to cope better in crisis situations and to think about life beyond the playing field and court.
"People are becoming more and more concerned about the holistic care of athletes. It's a big issue in the 21st century," said Dr. Waller. "There are huge expectations in sports to win and immense pressures to perform—this all takes a toll on an athlete over time."
United Theological Seminary's specialized area of study in the Doctor of Ministry program will enhance the role and skills of chaplains ministering in sport environments. The objective is to provide a solid biblical, theological, pastoral and practical foundation for ministering to players, coaches and families in sport environments.
"This intense training will address the advanced issues that athletes and public figures face. We will examine the theology and biblical basis of sports while working with athletes; we will provide the pastoral care element; and, we will work to understand the struggles and issues that many athletes face today," said Rev. Dr. Harold Cottom, III, co-mentor of United's Doctor of Ministry Sports Chaplaincy program. Dr. Cottom is also pastor of Daytonview Church of the Nazarene and a former body builder.
Some of the complex issues athletes struggle with at the college and professional level are suicide, depression, addiction, head trauma and transitioning from competitive play. United's Doctor of Ministry Sports Chaplaincy program will intentionally address these difficult issues, working to help students understand these feelings, why they exist and how to address them
.
The Sports Chaplaincy program will provide its students with an opportunity to understand and practice in a sport-related context. A requirement of the program is a unit of Clinical Pastoral Education similar to an internship. Additionally, each student is required to find and be guided by a professional mentor who also serves concurrently as a sports chaplain. The program's coordinators will work to help identify opportunities for its students to learn and serve in contexts with sports teams at other colleges and universities, and in the professional arena.
"The Sports Chaplaincy program is a specialized calling," said Dr. Hudson. "Many sports chaplains today are themselves former athletes and have a passion for serving the athletic community offering grace, love, spiritual nurture, growth, healing and restoration of a just society in the Spirit of Jesus Christ."
To read more information about the Sports Chaplaincy Program, click here.
United Theological Seminary, now in its 142nd year, is one of the fastest growing theological schools in the United States. It was founded in 1871 by Milton Wright, a Bishop in The United Brethren Church and father of Wilbur, Orville and Katherine Wright. United offers accredited, innovative graduate and non-degree education programs for both clergy and laity.