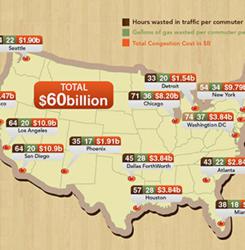 Presenting the bare correlation - cent for cent, between money lost sitting in your car waiting for a few inches of cleared space to move on, and how much it costs to deliver lifeline support
New York City, NY (PRWEB) January 31, 2013
Stuck in City Traffic: Counting the 'Social' Cost of Urban Immobility is a timely infographic by Financesonline.com that provides a meaningful comprehension of the cost of urban traffic congestion by presenting how all these wasted money could have filled the gaps where social service delivery tapers off.
With social service funding being a hotly contested issue amid government spending debates, a look at the cost equivalent of urban road congestion in terms of programs to help low-income Americans provides a link between the role of a reduced road congestion in lessening the dependency on federal support services.
The 2011 US Urban Mobility Report conducted annually by the Texas Transportation Institute, INRIX Traffic and the University Transportation Center for Mobility reveals that the top 15 highly urban areas in the US account for $60 billion or over half of the $101.9 billion national congestion cost, and that the combined congestion cost in these very large localities costs every commuter an average of wasted 52 hours and 25 gallons of fuel a year.
The report also traces the rise in the level of national "invoice" for wasted time and fuel, which shows a rapidly increasing trend by decade, from $21 billion in 1982 to $79 billion in 2000 and hovered at the $100 billion mark in 2010. The annual study forecasts the rise in national congestion cost to $133 billion in 2015 and $175 billion in 2020.
Meanwhile, the US Department of Treasury paper titled A New Economic Analysis of Infrastructure Investment suggests a link between reducing congestion volume and dependence on social support programs by enabling average Americans to have higher productivity, earn and save more with better mobility through better transportation system, especially those in urban areas.
The paper also mentions that transportation infrastructure that eases congestion aligns federal policies and funding to remove barriers to collaboration, leverage funding, and increase the effectiveness of programs to plan for future growth.
"A well-maintained and robust network of transportation infrastructure, which allows individuals to access multiple modes of transportation, results in significant efficiency benefits for Americans. One study found that in 2009, households at the national median level of income residing in "location efficient" neighbourhoods with diverse transportation choices realized over $600 in transportation cost savings, compared to similar households living in less efficient areas," part of the report says.
What does it mean in terms of employment opportunities, food provision, housing, education and healthcare?
Stuck in City Traffic: Counting the 'Social' Cost of Urban Immobility, an infographic by Financesonline.com clears the fog off traffic congestion data by presenting the bare correlation - cent for cent, between money lost sitting in your car waiting for a few inches of cleared space to move on, and how much it costs to deliver lifeline support such as daily meals, minimum wage provision or footing medical bills to Americans who need them the most.
Stuck in City Traffic: Counting the 'Social' Cost of Urban Immobility, an infographic by Financesonline.com calls urgent attention to the fact that the time has come for every American to take a retrospective look at the speedometer and think of practical ways to help in unclogging the roads they use everyday, and how simple acts can help better the conditions of many American lives, perhaps including their own.