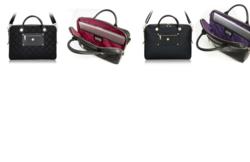 There are two different looks and designs to the Jesi.
Kent (PRWEB UK) 31 January 2013
The team at Luggage Superstore is happy to be able to bring a variety of brands and ranges from a wide scope of luggage from around the world. The Knomo brand is one that has also been added to Luggage Superstore's website and the Jesi is a slim briefcase range that customers just love. There are two different looks and designs to the Jesi.
The Bayswater Jesi Slim Briefcase is made from scotch-guarded durable nylon quilting, with sleek silver fittings, and the Battersea Jesi slim briefcase is done with stylish pebbled-leather. The bags can hold a 15" laptop which is equipped with shockproof protection and the bag can comfortably hold an A4 notepad and other work essentials with ease too. Knomo designs their bag with extra security protection knowing that consumers carry expensive and treasured items in these bags. The top zip fastening stops unwanted hands from entering these bags while using it with either the short twin carry handles or by the detachable shoulder strap. The practicality of these bags continues with internal pouches and zipped pockets to help organise items. Knomo has stitched inside the bags a unique ID number so that it can be easily identified to the owner if ever it was lost.
"Knomo's bags are practical and sophisticated and suit the modern consumer in a modern world." Comments Paul Steadman, Managing Director of Luggage Superstore.
Knomo quotes about their mission : - knomo's mission is to create perfect urban bags and accessories designed to blend style and utility to allow you to lead a more interesting life…a bag that really works."
Luggage Superstore's established site is in West Kingsdown, Kent. Their aim is providing competitive prices of the highest quality luggage and top calibre Customer Service for online luggage shopping. Luggage Superstore recommends Samsonite Luggage.
Trina Chee-a-kwai
Luggage Superstore
01474854666
Email Information