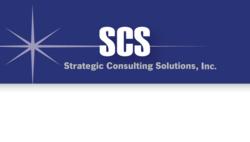 It's an honor to be elected and serve on the AFCEA Board
Charleston, SC (PRWEB) January 31, 2013
Given Larry Mosher's past experience in government contracting and his current position with Strategic Consulting Solutions as Operations and Compliance Manager for the Charleston office, the appointment comes as no surprise to those who know him. "We are so proud of Larry and his new role," said Laura Davis, President and founder of Strategic Consulting Solutions. "He will undoubtedly bring the same level of knowledge and integrity that he does every day to SCS," Davis continued.
As Operations and Compliance Manager, Mosher's responsibilities reach further than just his Charleston location. His expertise with compliance issues is utilized throughout the SCS organization and available for the company's entire customer base. Larry also conducts educational sessions covering many topics the company's customers find relevant to the government contracting industry. "It's an honor to be elected and serve the AFCEA Board," Mosher commented. "AFCEA is a fantastic organization and this chapter has played an integral role in the success of government contracting in the Charleston area."
AFCEA serves as a bridge between government requirements and industry capabilities, representing the top government, industry, and military professionals in the fields of information technology, communications, and intelligence. With SPAWAR Systems Center Charleston and the Charleston Air Force Base nearby, the Low Country chapter is the largest of three in South Carolina spanning the Hilton Head and Myrtle Beach geographic regions.
Strategic Consulting Solutions' presence in government contract accounting has grown exponentially in the past few years. Contractors , particularly ones new to the government arena, are often surprised by the scale of compliance and regulation required to conduct business with the federal government. Larry Mosher and the rest of the SCS staff are uniquely prepared to guide their customers through the pitfalls of the industry. The ensemble of accounting professionals that comprises the SCS staff is armed with decades of combined government contracting experience plus the company's designation as a Deltek Partner. Customers can choose to have a full suite of products and services performed, or select individual functions tailored to meet their specific needs. And, they can do so with confidence knowing that the tasks will be completed accurately and in full compliance of government regulation.
For more information about Strategic Consulting Solutions and the services they offer, please visit their website http://www.scsconsults.com