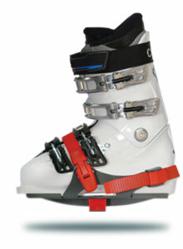 We are looking to bring our training equipment to the hundreds of thousands of enthusiastic skiers who want to keep their edge during the off-season and improve their ski performance ahead of the holidays
Haydock, England (PRWEB) January 30, 2013
The popularity of SkiA's Sweetspot Ski Trainer throughout the United Kingdom, Australia and New Zealand has seen demand for the product skyrocket in the US, leading to the opening of new section of their website dedicated to serving the American market.
The product, which attaches to ski boots, is an adjustable device that places narrow blocks under the center of the boot, where the point of balance for a ski rests for most effective maneuvering. Using these blocks in the home can help develop a keener sense of balance and weight distribution for skiers, improving their ski technique ahead of when they arrive on the piste.
"We know that most people can't spend an entire season on the slopes, so when they get out there it's important for them to make the most of the time," explained a spokesman for the product, "our Sweetspot Ski Trainer develops balance and posture for skiers."
The product already has the endorsement of Director of the North American Ski Training Center Chris Fellows, and a host of testimonials from users from the British, Australian and New Zealand markets. With such popularity, the move into America was inevitable.
It was clear SkiA understood that "North America is one of the largest skiing industries in the world, and the sport is hugely popular in the mountainous regions, where they get great quality slopes that are readily accessible to the masses. We are looking to bring our training equipment to the hundreds of thousands of enthusiastic skiers who want to keep their edge during the off-season and improve their ski performance ahead of the holidays."
About SkiA: The SkiA Sweetspot Ski Trainer is a 'dry land' ski-training gadget that teaches you how to find your ski's sweetspot through your feet and how to balance on the sweetspot perfectly. It consists of specially designed balance blocks that clip to the underneath of your ski boots. These line up exactly with the location of the "sweetspot", helping to improve balance and coordination. The SkiA Sweetspot Trainer is effective for skiers of all abilities, from beginners who have never skied before, to racers and professionals wishing to improve their performance. For more information, please visit: http://www.skia.com/us
This press release was written and distributed on behalf of SkiA by Brand Outreach, an online brand management agency that helps businesses grow and protect their online brand.