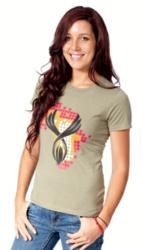 This shirt is definitely a show stopper
Toledo, OH (PRWEB) January 30, 2013
Pay It Forward has a new cause t-shirt recently released for the men and women of generation give. "PIF Africa" is a cause t-shirt that is helping to raise money and awareness for the needs of Africa. This shirt in particular allows customers to outwardly support the positive change happening in Africa. In order to help impact change for Africa, PIF has partnered with several non-profits organizations that already have a presence there.
For every shirt that is sold on their website, PIF donates 25% of the sale to one of the twelve non-profit organizations that it represents. Each organization represents a different cause, making it easy for customers to find an organization that represents a mission close to their heart. While all of the causes are different, all of the organizations featured on the PIF website do have one thing in common, they all have exceptional financial track records.
Pay It Forward's main requirement when seeking out new non-profits to partners is to make sure that the NPO is using an above average percentage of their budget to support the cause that they represent. According to the company, this vetting process is an essential step to being able to support effective and sustainable world change.
PIF Apparel's latest design, "PIF Africa" showcases the company logo in a yellow and blue variation with watermarked background on the canvas of a white crew neck tee. Like all of their cause t-shirts they are a tailored design fit, and made of a combed cotton and jersey material. The nice olive green color of the shirt compliments the unique design and colors.
"This shirt is definitely a show stopper," says Jana Operations Director at PIF. "All of our shirts are designed to stand out; we want people to ask you about the shirt and what it means. The PIF Africa shirt can mean simply you donated to a cause supporting African women and children. The perfect cause t-shirt if you want to wear something that represents how you helped change the world."
The shirt can be found along with several other charitable t-shirts at PIF's online store. The shirts typically sell for around $23, and customers are able to support a different organization for each item that is purchased. The company hopes to introduce 10-15 new designs this year and plans to take a more cause specific approach going forward.