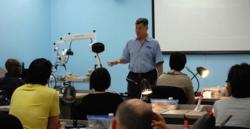 Excellent course, I wish I had found it sooner
Hackensack, NJ (PRWEB) January 31, 2013
Essential Dental Seminars diverse course syllabus includes: "The Attachment Retained Overdenture" presented by Dr. Bambara, and "The Balanced Oral Environment, Assessing, Restoring & Maintaining Dental Health" presented by Dr. John Comisi.
Date: Friday, April 26, 2013
The Attachment Retained Overdenture presented by Dr. Bambara, explores the benefits of the attachment overdenture vs. the conventional overdenture. This course also uncovers the superior results and patient satisfaction provided by attachment retained overdenture. Through this course, participants gain the knowledge and confidence to immediately begin treatment planning the attachment retained overdenture.
Dr. Bambara is on the teaching staff of UMDNJ and is an Adjunct Assistant Professor at the College of Staten Island. Dr. Bambara lectures nationally and internationally on attachment prosthetics and has been selected as one of the "Top Clinicians in Continuing Education" for 2006, 2007, 2008 and 2009 by Dentistry Today magazine results in patient health and satisfaction.
Date: Wednesday, June 5, 2013
Place: Essential Dental Seminars
Address: 89 Leuning St. South Hackensack, NJ 07606
Registration: 8:30am (Breakfast provided)
Time: 9:00am- 1:00pm
Fee: $175
CE Credit: 4 CE Credits upon completion
Discount: Register before 4/5/13 for $25 OFF
To Register: Call Ginger Pierro at (888)542-6376 or visit http://www.essentialseminars.org
Date: Friday, October 25, 2013
"The Balanced Oral Environment, Assessing, Restoring, and Maintaining Dental Heath" will be presented by Dr. Comisi. This hands-on course will explore the entire basis of patient care. Attendees will learn and understand the conditions needed in the oral cavity to help patients achieve the oral environment, how to make the patients become part of the solution, how to better serve patients and much more.
Dr. Comisi is a respected Key Opinion Leader, has lectured nationally and internationally and has contributed to the dental literature in such journals as General Dentistry, Compendium of Continuing Dental Education, Dental Product Shopper, Mentor Magazine, Dental Products Report, Oral Health Journal and Inside Dentistry.
Date: Friday, October 25, 2013
Place: Essential Dental Seminars Hands On Dental Education Center (HODEC)
Address: 89 Leuning St. South Hackensack, NJ 07606
Registration: 8:30am
Time: 9:00am- 4:00pm
Fee: $399
CE Credit: 6 CE Credits upon completion
Discount: Register before 8/1/13 for $50 OFF
To Register: Call Ginger Pierro at (888)542-6376 or visit http://www.essentialseminars.org
For additional information regarding these courses as well as additional course information visit http://www.essentialseminars.com