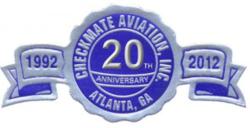 "Completely sold on CheckMate. ..they contain more information in one place than our editors have ever seen."
Atlanta, GA (PRWEB) January 31, 2013
CheckMate Aviation has been producing safety aviation checklists for pilots for 20 years. They offer numerous checklist systems covering over 300 models of aircraft. Their expansion into other classes of aircraft and pilot accessories is the first of a series of expansions for this Atlanta based company.
CheckMate has been widely recognized through national and international articles applauding their contributions toward creating a standard for the aviation industry. Additionally, they received recognition from the AOPA Air Safety Foundation, as well as aviation safety programs across the U.S. CheckMate was also selected as the official checklist of one of the most prestigious training programs in the country, the Bonanza/Baron Pilot Proficiency Program, a subsidiary of the American Bonanza Society. CheckMate Aviation has also received the FAA Flight Safety Award for it participation in aviation safety. More products are coming in the near future.
CheckMate Aviation Inc., established in 1992, is located in Atlanta, GA. Its clients span over 35 countries around the world and provide services for flight schools and pilot stores as well as pilots in general and corporate aviation. They can provide customized systems for aircraft manufacturers, flight schools, training facilities, FBO's, and flying clubs, as well as for individual pilots. CheckMate provides aviation procedures in an unparalleled seven formats!