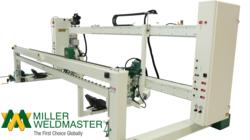 Navarre, OH (PRWEB) January 31, 2013
In a commitment to meet the demands of customers in the geomembrane industry, Miller Weldmaster is pleased to announce the addition of two standard models to its Autobond Automation Series, the TG3600 and TGS3600. Miller Weldmaster has installed over a hundred traveling machines in the Geo market. These machines have been specifically designed to meet the production needs of the geosynthetics industry by increasing production output, minimizing labor inputs and eliminating excessive fabric handling.
Through the use of many innovative features and a unique product design, the Miller Weldmaster TG3600 is constructed to make fabric welding as efficient and seamless as possible. By using the floor as the welding surface, the TG3600 takes up limited floor space. It utilizes unwinds and traverse motion to continuously weld a new fabric panel to the previous layer. There is no pre-pulling, no folding and no excessive operator handling.
The TGS3600 uses dual unwind stands and a stationary welder, allowing the geo liner to be welded while pulling material off roll, doubling the production capability. It can be equipped with a footage counter that tracks product length and a cutter that can automatically cut product to desired length. Miller Weldmaster Corporation is committed to meeting its customers' needs with comprehensive industrial fabric welding solutions using the latest industry and technological innovations.
About Miller Weldmaster
Miller Weldmaster, the first choice globally of all industrial fabric welding solutions, has offered rotary hot air, hot wedge and impulse welding equipment to the industrial fabric and thermoplastics industries for forty years. For the fabrication and automation of various products from awnings to truck tarpaulins, to flexible air ducting, Miller Weldmaster has developed many of the first advancements in heat sealing technology. The company's historical record of industrial "firsts" demonstrates its ability to research, design and build solutions using the most current and innovative features of the industry. Having sold machines in over 100 nations around the world, and with distributors in 20 countries, Miller Weldmaster Corporation is a leading international manufacturer and provider of solutions for plastic welding machines, with a commitment to customer satisfaction. The company is headquartered in Navarre, Ohio, USA. ###