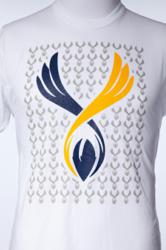 PIF customers are investing in their futures by paying it forward, and changing the world now instead of later.
Toledo, OH (PRWEB) January 31, 2013
Pay It Forward has a new t-shirt design released for the men of generation give. While the shirt design does not represent any one particular cause in this case, it has been a top seller for the company. Since August, Pay It Forward has used their line of charitable t-shirts to appeal to millennials looking to impact positive change by simply purchasing any everyday item.
For every shirt that is sold on their website, PIF donates 25% of the sale to one of the twelve non-profit organizations that it represents. Each organization represents a different cause, making it easy for customers to find an organization that represents a mission close to their heart. While all of the causes are different, all of the organizations featured on the PIF website do have one thing in common, they all have exceptional financial track records.
Pay It Forward's main requirement when seeking out new non-profits to partners is to make sure that the NPO is using an above average percentage of their budget to support the cause that they represent. According to the company, this vetting process is an essential step to being able to support effective and sustainable world change.
PIF Apparel's latest design, "Pay It Forward Logo" showcases the company logo in a yellow and blue variation with watermarked background on the canvas of a white crew neck tee. Like all of their cause t-shirts they are a tailored designer fit made of combed cotton and jersey material. The PIF logo is essentially a seed that is sprouting wings and depicts a representation of the PIF Apparel and what their customers are doing, planting small donations that add up to. Think about what they stand for and what the customers are doing with their purchases. Let the Operations Director, Jana, explain:
"PIF customers are investing in their futures by paying it forward, and changing the world now instead of later. The PIF logo will be a brand recognized for kindness, giving, education, financial responsibility, and positive world change and this shirt represents that."
The shirt can be found along with several other charitable t-shirts at PIF's online store. The shirts typically sell for around $23, and customers are able to support a different organization for each item that is purchased. The company hopes to introduce 10-15 new designs this year and plans to take a more cause specific approach going forward.