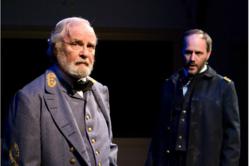 "…we feel especially fortunate to be making the first co-production of our two community institutions one with such historical presence." Nathan Rotz, Executive Director
Gettysburg, PA (PRWEB) January 31, 2013
As the commemoration of the sesquicentennial of the Civil War continues, 2013 is especially important to the historic town of Gettysburg, Pennsylvania as this July marks 150 years since the Battle of Gettysburg, often considered the turning point in the Civil War. In recognition of the place Gettysburg holds in history, Totem Pole Playhouse is partnering with Gettysburg College's Majestic Theater in a special co-production of the acclaimed one-act drama, The Road from Appomattox on the stage of the Majestic from July 10 through July 21. Tickets are on sale now.
Originally commissioned by the Ford's Theatre Foundation, The Road from Appomattox was created by Richard Hellesen, resident playwright at historic venue where President Abraham Lincoln was assassinated by actor John Wilkes Booth just days after the drama takes place. The story of The Road from Appomattox takes a deeper look into the meeting of Generals Ulysses S. Grant and Robert E. Lee resulting in Lee's surrender and the eventual ending of the Civil War. While there have been many accounts and portrayals of the famous April 9, 1865 meeting at Appomattox Court House, Virginia in print, on stage and on film; very little has been said of the two great generals' activities thereafter. A one-act historic drama, The Road from Appomattox gives the audience a glimpse into a second meeting of Grant and Lee on the following day. The portrayal captures the patriotism and compassion of two of American history's most interesting and revered figures.
"We are very excited about having the opportunity to partner with the Majestic Theater," said Nathan Rotz, Executive Director of Totem Pole Playhouse, adding, "with 2013 being significant in the observation of the sesquicentennial of both the Civil War and the Battle of Gettysburg, we feel especially fortunate to be making the first co-production of our two community institutions one with such historical presence."
"This special show is family friendly and provides a wonderful opportunity to expose kids to history in an entertaining way that is compelling to adults who are interested in drama and history as well," said Ray Ficca, Artistic Director of Totem Pole Playhouse. The one-act format makes it easy to fit into any trip to historic Gettysburg and the location of the Majestic Theater is convenient not only to downtown attractions, but to all National Park Service areas, hotels, dining and shopping as well.
"As downtown Gettysburg's showcase for the performing arts we couldn't think of a better way to tie into the rich history of the area and observe the sesquicentennial of the Battle of Gettysburg and the Civil War itself than to be co-presenting The Road from Appomattox with our neighbors at Totem Pole Playhouse." Jeffery Gabel, executive director of the Majestic Theater said. "While we haven't been here since the Civil War, the Majestic and Totem Pole each have long-established histories of bringing the arts to both the residents and visitors of our region."
The Totem Pole Playhouse-Majestic Theater co-production of The Road from Appomattox runs from July 10 through July 21, 2013 with a 2:00 afternoon matinee and a 7:30 evening presentation most days. All seats are general admission and tickets are just $19.50 for adults and $9.00 for children 12 and under for all shows. Tickets are on sale now and selling fast. For seating, ticket and theater information visit Gettysburg College's Majestic Theater online at GettysburgMajestic.org or call 717-337-8200. For information about Totem Pole Playhouse's 2013 season, tickets shows at the playhouse or general information visit online at TotemPolePlayhouse.org or call 717-352-2164.
###
About Totem Pole Playhouse
Nestled in Caledonia State Park about 13 miles west of Gettysburg and 10 miles east of Chambersburg on U.S. 30, Totem Pole Playhouse has become home to an enclave of professional performing artists including Jean Stapleton, Curtis Armstrong, Harry Groener, Henry Strozier, John Ritter, Barbara Feldman and Sandy Dennis. Totem Pole Playhouse opens its 63rd season in May of 2013. For more information about Totem Pole Playhouse, the line-up of productions for the 2013 season or ticket information, please visit TotemPolePlayhouse.org.
About Majestic Theater
The Majestic Theater opened in downtown Gettysburg in 1925 as the largest vaudeville and silent movie theater in south-central Pennsylvania. The $16 million restoration of the theater has meticulously re-created its original Colonial Revival features a 800 seat Live Performing Arts Theater, two cinemas that feature independent, art and foreign movies, an art gallery and Flats restaurant. For more information on Live Performances and cinema: visit GettysburgMajestic.org or call 717-337-8200.