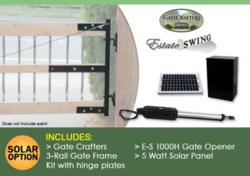 ...customers have been very excited by the convenience of it!
Odessa, FL (PRWEB) January 30, 2013
GateCrafters.com started producing driveway gates, building them in Odessa, FL, for sale nationwide online in 2002. Previously on the website the method for advertising and selling driveway gates and gate openers was as two separate items for purchase. New for 2013, GateCrafters.com is now packaging driveway gates, gate openers, and gate hanging solutions pre-paired for a single item purchase.
Lucas Carlaw, manager of the gate production / sales department, states, "60 percent of our customers are looking for complete packages that include automation, not just the driveway gate. Our website is built in a way that it is easy to review all of our gate openers and select the best fit or our reps are really helpful and can build this package for you. However drawing on our years of experience building these packages we have made a third option for one click purchase to get everything together that you will need for a driveway gate and basic automation. Initial reaction is that customers have been very excited by the convenience of it."
The pre-packaged electric driveway gate turnkey solutions provide a gate opener that has been a popular choice when paired with the gate that is being sold. The mounting hardware is either a post to set in cement or a hinge plate grouping for column mounting. Driveway gates have become a popular home addition in recent years as home owners, forced to stay in their homes due to low housing sales, look to make home improvements with high market resale value.
to learn more about turnkey gate and gate opener solutions please contact Lucas Carlaw at 1-800-537-4283 or through http://www.gatecrafters.com.
GateCrafters.com is a division of Web Direct Brands, inc.
Web Direct Brands, inc is an online retailer dedicated to supporting the Do It Yourself community of shoppers.