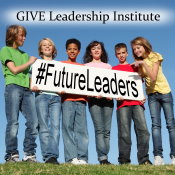 #FutureLeaders is the first step in a long-term effort to provide the next generation with tools that challenge the status quo among supervisors and help leaders accomplish objectives while leveraging teams' talents in an environment of trust.
Ithaca, New York (PRWEB) January 31, 2013
In an effort to expand on their success in presenting a sustainable leadership model to clients such as the University of Connecticut, Cornell and Texas A&M, GIVE Leadership Institute today launched their #FutureLeaders crowdfunding initiative to bring that model to an audience their co-founder calls "the next generation of leaders": elementary, high school, and college students.
The campaign's goal is to raise $10,000.00 to enable GIVE Leadership to present their model in a interactive and engaging session to students in 10 schools in New York State's Finger Lakes region this year without requiring any funds to be allocated from the schools' budgets.
Since 2010, GIVE Leadership Institute has provided clients in business and academia with hands-on coaching in sustainable leadership and practical applications for issues such as negativity bias, lack of employee engagement and workplace bullying that impact the "Triple Bottom Line" of "People, Profit & Planet." In recent months, GIVE has applied these principles and methods to teach grade school students what it means to lead past the negativity bias, maintain harmony, establish trust and manage conflict within teams. The overwhelming response of students, parents and teachers inspired GIVE co-founder Al Gonzalez to make the needs of future leaders a top priority for GIVE.
"I was expecting that concepts like using authority to bully others would make sense to them," Gonzalez explained. "What I did not expect was to see them quickly and easily connect leadership with the ideas of managing or leading teams away from conflict and not letting our own negativity bias influence our actions. To them, this seemed perfectly logical."
Gonzalez said that the enthusiasm with which young audiences embrace these concepts presents a golden opportunity to make an impact on serious leadership issues. "The status quo among leaders in our society is plagued by bullying, negative bias and employee disengagement. Part of the problem is that we take too long to develop our leaders, and these messages of sustainable leadership are much harder to teach to an older audience."
GIVE supports the premise for their #FutureLeaders campaign with compelling statistics from sources such as Gallup, Deloitte, Forbes and others. Between 35% and 50% of workers have been bullied or otherwise abused in the workplace at some point in their careers. An estimated 23 million workers are actively disengaged, costing the economy up to $350 billion per year in lost productivity including absence, illness and other problems. Only 20% in the workforce are passionate about their work, and, on average, the managers charged with leading them don't get leadership training until age 42, 10 years after they begin supervising employees.
According to Forbes, it is "training" that is the problem as it "tends to standardize by blending and acclimating to the status quo." One of the quotes from the #FutureLeaders crowd funding campaign site states that "the answer to the leadership training problem is to scrap it in favor of development. Don't train leaders - coach them, mentor them, develop them, but please don't attempt to train them...development strives to call out the unique and differentiate by shattering the status quo."
GIVE describes #FutureLeaders as the first step in a long-term effort to provide a generation of young people with a framework of time-tested organizational tools that challenge the status quo among managers and supervisors and help leaders and their teams accomplish their objectives, while continuously leveraging the natural talents of all team members in an environment of trust and safety. Their promotional material states that the campaign is "designed to grow into a key part of the paradigm shift in leadership that must take place if we are to build and live in a truly sustainable society."
Gonzalez says that the way forward lies in partnerships with schools and universities to start developing leaders as early as possible. "We must provide an easily accessible model that any student can start using to improve the quality of their leadership. We must also teach students how to think differently about leadership. Learning how to use authority and popularity to help, motivate and engage others will help them now as well as in the future."
"These are tools that they can apply in every area of their lives and potentially change the workplaces they will run when they take their place in the workforce, which will affect hundreds or thousands of next generation workers and supervisors."
Each of the presentations funded by #FutureLeaders will be made by Gonzalez, who will share his 16 years of experience applying organizational theory to real-life situations as a leader in organizations such as Motorola, CBS Sports and Cornell University with the students. These sessions will be recorded in order to develop multimedia programming that can be used by any principal or teacher across the country who wants to apply the content in their school or classroom.
#FutureLeaders is hosted on IndieGoGo.com, an international crowd funding site that has hosted over 100,000 funding campaigns since 2008 and been featured in the New York Times, CNN Money, Fast Company, PBS, Variety and Mashable. Contributions of any amount can be made to the #FutureLeaders campaign, but only in $1 increments. At specific levels of participation, contributors will receive perks such as pens, calendars, flash drives, e-books and consultation services.
The funding goal of $10,000.00 is intended to meet the $1,000.00 expense for a single presentation to be given a total of 10 schools. If the goal is not reached, the total amount of funds collected will be divided into $1,000 increments (rounding up at $500.00) and presentations will be made to one school per increment.