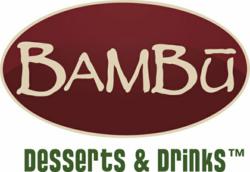 San Francisco, CA (PRWEB) January 30, 2013
Bambu Desserts & Drinks, Inc. announces the grand opening of its first store in San Francisco. "We're ecstatic to share our Asian-inspired desserts and drinks with San Francisco, which is a mecca for real foodies," said Christy Tran, co-owner of Bambu SF. "With a strong diversity in food and culture, we are proud to add Bambu's fresh and healthy desserts and drinks to the city's spectacular menus."
After a soft launch this past weekend for friends and family, Bambu SF's grand opening is scheduled for this coming Saturday and Sunday, February 2nd and 3rd. "We made the mistake of unlocking the doors to the public last Saturday morning and the people just kept coming and coming until we literally started to run out of supplies," explained said Diem Huynh, co-owner of Bambu SF.
Conveniently located at the northeast corner of 25th and Geary in Central Richmond, their grand opening event is scheduled to kickoff at 9:00 Saturday morning. The entire family is welcome to participate in the weekend long celebration and receive complimentary table snacks and tickets to win free Bambu drink passes and even a 49ers jersey in support of their favorite NFL super Bowl team.
"Christy, Diem and I have been planning our grand opening for months obviously not taking into consideration that the 49ers would be playing in the Super Bowl," described Tiffany Nguyen. "But, it all worked out. What could be more exciting than three long-time friends celebrating the grand opening of our new business venture together and watching the 49ers win? Please join us in the celebration."
"Our drinks are much more than pearl or boba tea, it's a spin on various Asian flavors that results in vibrant drinks that look and taste great," said Julie Nguyen, a co-founding sister of Bambu Desserts & Drinks, Inc. "We're excited to bring to the San Francisco community another Bambu to enjoy and incorporate in their healthy lifestyle journeys."
Bambu Desserts & Drinks was founded in 2008 by four sisters in San Jose, California. With thirteen new shoppes opening in three states in less than two years, Bambu has become quickly known for its fresh, healthy and colorful Vietnamese-inspired Chè, unique milk teas, Vietnamese espressos, blended coffees, and exotic smoothies. Their menu has over 100 desserts, coffees, teas and drinks to select from, but you can order any item "just the way you love it" at no extra charge including extra jellies, pearls, or shots of espresso. For more information on Bambu – San Francisco visit http://www.BambuSF.com.