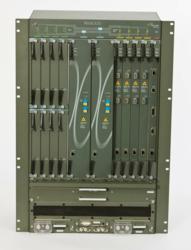 Currently, the largest electronic switch fabrics might be able to reach a limit of 40-60Tbps... But to reach scales beyond this, and to extend the connectivity across greater distances, we needed to take an entirely new approach
Dublin, Ireland (PRWEB) January 31, 2013
Intune Networks has announced a new optical switching architecture for interconnecting multiple data centres. Intune is uniquely able to extend data centres to this scale by using its IVX8000 system, the world's first distributed optical packet switch.
John Dunne, Intune's Chief Technology Officer said, 'Some of our customers are struggling with operational complexity as their data centres scale. So they asked us to design an architecture that could break through the data centre boundaries. They want to unify a single data centre across multiple sites with a full mesh of connectivity between them. Optical switching allows our customers to virtualise functions across several locations and create a single unified data centre spread over multiple locations.'
Intune's architecture also takes advantage of the system's recently announced SDN capability, creating the world's first distributed SDN switch. Dunne added, 'One of the reasons we can implement at such a large scale is because the switches' forwarding fabric can be controlled through an SDN control API, so the entire architecture can be controlled in unison with the IT systems that it is interconnecting.'
Intune's unique system will also significantly reduce the number of conventional switch ports required to interconnect data centres. Traditional architectures require separate transport and switching devices, so they consume switch ports to connect the switches to one another across the transport links. Intune's system delivers packets across an extended optical backplane directly to the destination port, eliminating the need for intermediate switch ports. Every port across the core is reached in a single hop.
Richard Brandon, Intune's Chief Marketing Officer said, 'Currently, the largest electronic switch fabrics might be able to reach a limit of 40-60Tbps, which makes them well-suited to provide local connectivity within data centres. But to reach scales beyond this, and to extend the connectivity across greater distances, we needed to take an entirely new approach.'
Brandon added, 'Of course, not all of our customers require such large systems today, but this architecture scales incrementally, allowing customers to add capacity only as and when they need it. We have customers using the iVX8000 system today, who have already created a full mesh of connectivity between their distributed data centres. Now they know they can grow their infrastructure to vast capacities, with no step-change in costs along the way.'
Intune plans to share this new architecture with selected customers over the next few months.
About Intune Networks Limited (http://www.intunenetworks.com)
Intune Networks has developed a brand-new networking technology, allowing organisations to scale networks in a way that is simpler to operate, uses fewer components and is far more efficient than any previous system.
Intune has invented a new way of forwarding packets over long distances, creating a distributed optical switch that can switch packets across hundreds of kilometres. Intune's technology uses tuneable LASERs to switch the packets across its system. This reduces network complexity and increases connectivity by making bandwidth instantly available to any point in the network.
Intune are a venture-backed company headquartered in Dublin, Ireland, with offices in the United States and additional research and development facilities in Belfast, UK.