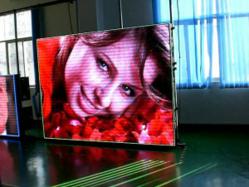 Advertising.com.my, being the pioneering agency to move this technological revolution in Malaysia's advertising industry has now enhanced and expanded its LED product line with the launch of the P5 indoor screen range.
Kuala Lumpur (PRWEB) January 31, 2013
The new LED product line marks the fourth year that Advertising.com.my is venturing into this business area after having brought LED into the market and making this media extremely popular. Today, Advertising.com.my is the leader in not only the LED advertising industry but in other related areas as well. In this context, Advertising.com.my provides a comprehensive range of advertising and marketing related services through its own in-house creative team who are highly capable and qualified and has been catering the services to corporate companies around the country.
A strong advocate and mover in the LED digital screen in Malaysia, Advertising.com.my has become a fully and well established partnered among major companies and businesses from the private and public sectors respectively when it comes to this type of media. Where this is concerned, Advertising.com.my has firmly established its foothold in the industry thereby making them the preferred choice of partner among the corporations to deliver high quality and cutting edge LED advertising products and services.
Advertising.com.my, being the pioneering agency to move this technological revolution in Malaysia's advertising industry has now enhanced and expanded its LED product line with the launch of the P5 indoor screen range. One of the first to offer this product for the Malaysian market, the P4 LED screen is the best and most suitable solution for advertising boards used indoors.
Apart from the availability of the P4 LED screens, ACM offer the full supply of services for this business area to its clients. Known to be the one-stop centre for advertisers in all areas of advertising and marketing, Advertising.com.my provides LED advertising services that start from the discussion table where ideas are conceived and conceptualized and then on to the market where the screens are installed, mounted and maintained.
The new and revolutionary LED screens from P4 to P16 are now available and ready to be engaged to cater to the marketing needs of any business. LED screen rental are ready and available as well where they are specifically designed for indoor advertising purposes where they can be appropriately used for display in stadium, sports arenas and entertainments. The large LED screens are fundamentally made and designed for use as scoreboards and information signs.
Another aspect of the new launch from Advertising.com.my is in another revolutionary technology which is in 3D printer manufacturing. This is one device which has yet to be commercialized in the Malaysian market and Advertising.com.my, being the pioneer in all that it does has taken the first step to introduce this highly commended device to the market. Being among the first companies to bring this revolutionary product to the Malaysian market, Advertising.com.my will undertake the entire supply of 3D printers that starts from 3d design, manufacturing and marketing of the devices. This product is catered to designers in all levels that range from consumers to corporations who are interested to product cutting-edge and never-seen-before printed objects which are in 3D (3 dimensional) form, different from the more conventional type of printing services.
New packages involving the new products offered by Advertising.com.my include free maintenance for a specific time during the lease while there will be a live forum in which answers about LED lighting and other related issues are answered in real-time and as and when needed. With this new range of LED products, Advertising.com.my is now more than equipped to undertake more project that will be made and designed in various scales. LED digital panels are seen along roads and highways and are made in small boards while there are large scale projects like that which is installed in the UMNO building, BSN branches and many others.
Advertising.com.my is today the leading manufacturer of LED screen and EFL lighting in Malaysia and in the surrounding regions. As such, the agency offers all types of service related to these technologies which cover not only advertising and lighting but customized sculpture and signboard in Malaysia using EFL, among others.
On top of that, Advertising.com.my is expanding this business area into the online market and environment. The internet market has been a major focus and the flagship service offered by Advertising.com.my since it was established. Leveraging on this experience and expertise, Advertising.com.my has now launched its online buying site in which customers can buy LED products like bulbs, downlights and EFL through an online system which is efficient and hassle-free. All products purchased online are accorded with a 3-years warranty on manufacturer's defects. Other LED lighting products include automotive headlights for most of the automotive brands in Malaysia.