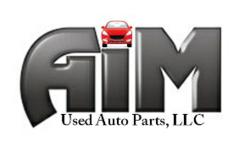 We are looking forward to providing a better experience for our customers and continuing our quest to make Aim Used Auto Parts Riverview the #1 destination for used auto parts both locally and worldwide.
Tampa, Florida (PRWEB) January 31, 2013
Aim Used Auto Parts Riverview recently announced a new and improved shipping department that is streamlined for speed and efficiency when processing inventory for shipping to their customers.
Owner Alexandria Ayres said "A big part of our sales approach is free standard shipping. However, with the carriers we were previously utilizing, we realized that our shipping needs were not top priority with each individual freight company and that needed to change."
"We partnered with Estes Express for shipping services due to their excellent track record. This allows us to manage our shipments more closely and gives many more shipping options. AIM Used Auto Parts can now guarantee your used auto parts be delivered to a commercial or residential address on a specific day and even by a certain time if needed."
And our shipments are now top priority for pickups, drop offs, and all other aspects of customer service, rather than grouped together with all the other businesses in our area."
"We are looking forward to providing a better experience for our customers and continuing our quest to make Aim Used Auto Parts Riverview the #1 destination for used auto parts both locally and worldwide."