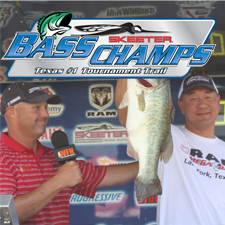 "We are very excited to announce the beginning of our new partnership with Bass Champs in 2013" stated Koby Fulks, Outdoor Marketing for Under Armour.
Fort Worth, TX (PRWEB) January 31, 2013
Bass Champs (Texas #1 Tournament Trail) announced today that UNDER ARMOUR has signed a two year deal with the Texas based organization Bass Champs Tournament Trail, and is now the official apparel and footwear of the popular fishing circuit and television show.
"Under Armour provides apparel for every type of weather that our anglers face. Texas anglers have to battle extreme weather conditions during the tournament season and Under Armour has clothing that provides comfort and durability better than any other brand on the market." said Chad Potts, President of Bass Champs, Inc. "In addition to the best apparel on the market, anglers can now cash in with the new Under Armour Big Bass Bonus. The bonus is available at every Bass Champs team event. If the team that wins big bass of the event is wearing any Under Armour apparel or footwear as they cross the Bass Champs stage, they will receive an additional $200."
Under Armour is the originator of performance apparel - gear engineered to keep athletes cool, dry and light throughout the course of a workout, on the water or in the woods. The technology behind Under Armour's diverse product assortment for men, women and youth is complex, but the program for reaping the benefits is simple: wear HeatGear when it's hot, ColdGear when it's cold, and AllSeasonGear between the extremes.
"We are very excited to announce the beginning of our new partnership with Bass Champs in 2013" stated Koby Fulks, Outdoor Marketing for Under Armour. "Bass Champs tournament anglers are dedicated outdoorsmen and have to contend with all types of weather conditions and at Under Armour we are dedicated to providing apparel solutions for every situation they are faced with, I think its the perfect fit."
About Bass Champs:
Bass Champs is the largest team tournament trail in Texas with over $2,000,000 annually paid out to amateur anglers per year. The 2013 Bass Champs season features $26,500 guaranteed in the top 5 places at every event, the richest guaranteed team Championship in the United States with 40 places guaranteed and over $130,000 in cash and prizes regardless of entries, and every team event requires a 3 fish limit. The Bass Champs tournament television show is going into its 12th season and will air on the only 24/7 fishing channel, The World Fishing Network. The Bass Champs tournament trail hosts over 10,000 anglers per year from over 30 states in various tournament formats including team events, specialty events, charity events, Big Bass events, and the annual Skeeter Owners event.
For additional information regarding the Bass Champs Tournament Trail or the Bass Champs Television Show visit http://www.basschamps.com or call 817-439-3274
Along with the title sponsor, Skeeter Boats, the Bass Champs tournament trail also represents the following fine companies: Yamaha Outboards, Ram Trucks, BIOBOR, Minn-Kota trolling motors, Chevron DELO, Humminbird electronics, Academy Sports & Outdoors, Under Armour apparel, Berkley, Continental Batteries, Abu-Garcia, Progressive Insurance, Navionics, Sure-Life "catch & release" formula, & Costa Sunglasses.
2013 Bass Champs schedule of events:
January 12th-Lake Falcon-South Team
January 19th-Lake Sam Rayburn-East Team
February 9th-Lake Amistad-South Team
February 16th-Lake Sam Rayburn-East Team
February 23rd-Lake Travis-Central Team
March 2nd-Lake Fork-North Team
March 9th-Lake Falcon-South Team
March 16th-Lake Sam Rayburn-East Team
March 23rd-Lake LBJ-Central Team
April 7th-Lake Fork-Ram Mega Bass
April 13th-Lake Sam Rayburn-East Team
April 20th-Lake Ray Roberts-North Team
April 27th-Lake Belton-Central Team
May 4th-Lake Amistad-South Team
May 11th-Lake Tawakoni-North Team
May 18th-Lake Travis-Central Team
June 1st-Lake Falcon-South Team
June 6-7th-Lake Fork-Skeeter Owners Tournament
June 15th-Lake Sam Rayburn-East Team
June 22nd-Lake Ray Roberts-North Team
June 29th-Lake Belton-Central Team
July 13th-Lake Cedar Creek-North Team
October 5-6th-Team Championship-LAKE TBA
October 19-20-Lake Fork-Berkley Big Bass
Set your DVR's for Bass Champs Television on The World Fishing Network!
Mondays @ 8:30 PM Central
For more information about Bass Champs visit basschamps.com or call 817-439-3274