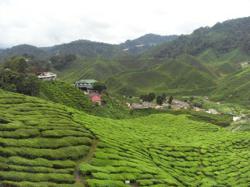 The new hotel channel will be a first-of-its-kind services which is offered through a community site like Cameron.com.my
Cameron Highlands (PRWEB) January 31, 2013
Cameron Highlands is by any means one of the top tourist attractions not only in Malaysia but across the region of Asia and the world. It has one of the most dynamic and exciting tourism sectors that contributes largely to the state of Pahang and the country as well, bringing in thousands of visitors to its lush and beautiful surroundings each day. As such, to cater to the tourists and visitors to Cameron Highlands, Cameron.com.my plays a pivotal role in accommodating their needs and requirements when they visit here.
Since it was established, Cameron.com.my has been actively promoting Cameron Highlands through its range of online services and resources that cover information about attractions, cameron food, booking of accommodation and transport services. In order to cater to more tourists and visitors as well as to complement its other services, Cameron.com.my has launched a fully dedicated Hotel Channel to bring better and more efficient service to its members, particularly in terms of accommodation.
The new hotel channel will be a first-of-its-kind services which is offered through a community site like Cameron.com.my. While there are hotel booking sites in the industry, Cameron.com.my is the only portal which offers Cameron Highlands hotels and accommodation booking services which is related fully and only for Cameron Highlands.
One stop hotel & apartment real-time booking
With more people visiting Cameron Highlands on a daily basis, more and more hotels and accommodation choices are being built in order to cater for their stay. Among them are the new Aranda Nova Apartments which offer various types of apartment and condominium styled stays as well as the new Brinchang Square developed by LBS, one of the leading property developers in Malaysia today. On top of that, there are many other accommodation choices, all of which offer their own unique set of facilities and services to the guests. This makes booking of accommodation more difficult as visitors are spoilt for choice. By using the Hotel Channel at Cameron.com.my, visitors and tourists can now use the one-stop service to find the most suitable accommodation based on what they are looking for.
Members and visitors to Cameron.com.my will now be able to use the centralized system to find out all the information about all the hotels and homestay in Cameron Highlands. This means that they only have to visit Cameron.com.my's hotel channel to determine which the best choice are in terms of occupancy level, pricing, facilities and other related matters. From there, they will be able to book hotel or apartment rooms through the online system in real-time. Payment transactions can be made when they visit Cameron Highlands while they will receive instant confirmation of their bookings without any hassle. Customers can even check their booking status through Cameron Highlands facebook page.
Apart from booking of rooms in the hotels and Cameron Highlands apartments, visitors can now make requisitions for special services like disability facilities, food and beverage as well as for others like transportation and additional items like beds and such, all of which can be done and confirmed instantly. From there, visitors and tourists can now find information related to the activities and tourists attractions available around Cameron Highlands. One of the most popular activities here includes jungle trekking for the adventure seekers.
As part of the value-added services of the new channel, Cameron.com.my offers a new facet through its Adventure and Jungle Trekking section. This is where members can decide to join the various activities available daily and confirm their participation. Similarly to the booking of hotel rooms, payments can be made upon arrival while confirmation can be obtained instantaneously.
One of the highlights of this new section is that online booking for the Crown Imperial Court and Apartments and Hotel Greenhill Resort Cameron. The former is located conveniently near to the night market (Pasar Malam), one of the most popular attractions of Cameron Highlands while it comes with ample parking space for those driving here. Located within walking distance to public amenities like shops and restaurants, the Crown Imperial Court is popularly known for its majestic and magnificent views of the natural surroundings of Cameron Highlands.
Meanwhile, the Greenhill Resort is known for its convenience as it is locate very near to the shops and other retail outlets and offers ample parking space as well. Surrounded by the lush and green vegetation of Cameron Highlands, it is the most suitable place to stay for anyone planning to go jungle trekking which is only a stone's throw away.
Apart from catering to the holiday and adventure seekers, the new channel includes a Jobs and Careers segment in which tourists can look for jobs and available vacancies in the hotel and accommodation sector of Cameron Highlands. Hoteliers and owners of accommodation can post their job vacancies like cashiers, clerks, hotel reception, front-desk, marketing and others here to find the most suitable candidates for the jobs.