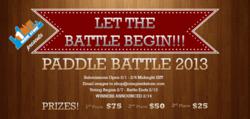 Gainesville, Fl (PRWEB) January 31, 2013
What is a Paddle Battle? It's One Greek Store's annual contest for the most creative greek paddle design. As anyone who's ever been in a fraternity or sorority knows, paddles are a BIG deal.
Tony Tran, owner of One Greek Store is excited: "We wanted to kick start the New Year right by bringing back the Paddle Battle. The contest offers a unique platform to showcase the diverse paddles from across the nation and allows Greeks everywhere to pick the top design. Whether your paddle is old, older or brand spankin' new, go ahead and make a submission for your chance at taking home prizes worth up to $100"
Entering the Paddle Battle is easy and free. Simply log into Facebook and visit One Greek Store's Facebook page. Or, visit One Greek Store's website and click on the "Paddle Battle" banner on the homepage. Contestants must simply submit an image of their decorated paddles and provide an email address for notification should their paddle be voted as one of the top 3 winners. Prizes will be awarded for 1st, 2nd and 3rd place and contestants should encouraged fraternity and sorority brothers and sisters as well as other friends to vote. Tran emphasizes the importance of voting. "Last year's winner took home a big prize package but won by a very slim margin in the overall voting"
One Greek Store was founded in the summer of 2006 by three college students at the University of Florida. The founders recognized a unique need in the Greek community. They wanted to provide Greek clothing and merchandise of exceptional quality at reasonable prices. Customized apparel and accessories, like paddles, are what they are known for best but be sure and check out their website and view their full line of awesome products...for the Greek in you.