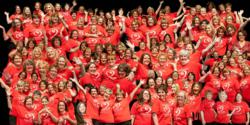 I am a model of heart health. I pledge to honor my body, mind and spirit; and promise to live my life in a way that will inspire others to follow my example. My life is in my health, my heart, and my hands.
Brooklyn, CT (PRWEB) January 31, 2013
The Follow the Fifty: Models of Heart Health (FTF) campaign is celebrating National Wear Red Day with news that their local initiative will be cast into the national spotlight. The women's heart health awareness and action campaign created by the Northeast District Department of Health (NDDH) in partnership with the HealthQuest Northeast Connecticut Coalition, will be honored in New York City on Wednesday, February 6, 2013 at The Heart Truth® Red Dress Collection Fashion Show, according to FTF Project Manager Linda J. Colangelo.
"Based on the success of our nearly year-long initiative to get heart healthy, 150 models and campaign partners have been invited to the national signature event that kicks off fashion week in New York City and The Heart Truth ® 2013 Campaign," explained Colangelo. "And while we watch and cheer, our very own Model of Heart Health, Cindy Parsons, will walk the runway with celebrity models to promote the message that heart disease is the number one killer of women. It's an unbelievable honor for all of us."
Parsons, a lifelong resident of northeastern Connecticut and owner of The Trink-et Shoppe in Danielson, will find herself walking the runway in the Hammerstein Ballroom at Manhattan Center along with over 20 celebrity models including fitness guru Jillian Michaels, Olympic Star Gabby Douglas, the Today Show's Savannah Guthrie, singer Toni Braxton, Kelly Osbourne, the youngest "Kardashians" Kendall and Kylie Jenner, and a host of others.
Parsons joined the Follow the Fifty campaign along with her daughter, Stacy, in March 2012. The mother/daughter team embarked on a year of heart healthy living. Cindy Parsons' commitment to health resulted in a 77 pound weight loss and 12 inches lost from her hips and waist. Most importantly, she lowered her blood pressure and resting heart rate; improved her cholesterol and lowered her body mass index by 11 points…moving from "obese" to a "normal weight" category.
Parsons' participation is the first of its kind for the Red Dress Collection Fashion Show, now in its 11th year of promoting women's heart health.
The Road to Heart Health…and the Big Apple
Follow the Fifty: Models of Heart Health is an energetic and empowering women's heart health initiative that was funded through The Heart Truth® Community Action Program by the Foundation for the National Institutes of Health and created by the Northeast District Department of Health and the HealthQuest Northeast Connecticut coalition. Originally designed to recruit 50 women from northeastern Connecticut to serve as role models of heart health, the initiative quickly expanded to include 185 applicants. Model coaches and countless community cheerleaders and campaign partners offered support through nine months of transformation into a heart-healthy lifestyle. In December 2012, the 129 models who completed the campaign debuted their new looks and lifestyles at the Red Dress DIVAS Holiday Spectacular – a festive concert to showcase their journey and celebrate their success. The group collectively brought its cholesterol down 275 points, BMI dropped by 258 points, resting heart rates lowered by 461 points and the models lost a total of nearly 1,500 pounds and 743 inches—all through their unique support system – "the sisterhood," as they call it - that encourages a heart-healthy lifestyle.
Shortly after the close of the two sold-out performances of the Red Dress Divas Holiday Spectacular Show, Follow the Fifty campaign organizers received word from the National Heart, Lung, and Blood Institute that they wanted to help the local initiative promote the campaign to a larger audience. "We thought that meant they might put a link on their national website that directed visitors to our Follow the Fifty website," said Colangelo. "Instead, they invited us to attend the Red Dress Collection Fashion Show in New York, and then things just took off from there."
The original invite was for FTF organizers to select five of the top model success stories from the campaign who would be invited to attend the fashion show. "Picking five was impossible because every model's journey was profoundly personal and no one effort embodied all the others," Colangelo said. "In elevating five, we did not want to marginalize the other 125."
So the national offer was politely negotiated, with the explanation that the models had succeeded in large part because everything they accomplished, they did together – whether it was crossing a finish line, helping each other count calories or quit smoking, exercising, cooking, and grocery shopping. "Our motto was, 'No model left on her behind,'" quipped Colangelo.
The NHLBI came back with a stunning offer for all of the models and campaign partners to attend. "There were shouts of joy, lots of hugs, tears of appreciation, and then the FTF planning team launched into full operational mode, much like we had done for all of 2012," commented NDDH Director of Health Susan Starkey. "We are so grateful to the models for their hard work, and all the campaign partners – local, state, and national – who helped make this dream a reality."
Just when they thought things couldn't be better, NDDH received another phone call from their national funder, who had another request of the Follow the Fifty campaign. "She said they wanted to do something they have never done with the New York City event, and that was to put a campaign participant in the actual show…and she wanted it to be one of our models of heart health," Colangelo recalled. "I thought to myself, if we couldn't pick the top five, how would we ever select one? As we reviewed all the stories, all the successes, one story found us. The beautiful irony of Cindy's story surfaced – in addition to her personal success, she was there at every turn to help the campaign and models with all of their dress needs. We found the iconic Ruby the Red Dress at her store, she outfitted most the Red Dress Divas performers for the show, she donated dresses to the campaign for display and for models who did not have the means to afford one. She never said 'no' to any request and never accepted a cent of grant funds. She has spent her entire life dressing other women in designer dresses to make them feel like princesses. Now it's her turn."
For her part, Parsons, who has worked at The Trink-et Shop for 42 years, is still on cloud nine. "There are really no words to describe the feeling," she says. "I am so honored, so proud to represent Follow the Fifty. When I start to get nervous, I remember that I have the power of 129 other women up there with me."
Parsons will be fitted with a designer dress and will receive the full celebrity treatment as she prepares for the big event. At 7pm on February 6th, she will take to the runway to honor her sisters in the Follow the Fifty campaign, to promote the message of heart health, and to thank the community for its support. At the end of the runway, she will undoubtedly stop for a brief moment to offer the FTF "wave" – a ceremonial placing of one hand over the other atop her heart. It serves as a pledge to honor her body, mind, and spirit; a promise to live her life in a way that inspires others to follow her example. It is also a reminder that the counter-attack against heart disease that started in Quiet Corner took her to the bright lights of the Big Apple and did her heart – and many others - a world of good.
The Follow the Fifty Models of Heart Health excursion to New York City will depart from the Killingly Commons parking lot at 1:00pm on February 6th. FTF coaches and community members are invited to see them off. Transportation is being provided by Rukstela Charter Service in Eastford. Travel costs are being paid by donations and proceeds from the Red Dress Divas Holiday Spectacular.
About Follow the Fifty: Models of Heart Health
Follow the Fifty is sponsored by a grant from the Foundation for the National Institutes of Health as part of a public-private partnership with the National Heart, Lung, and Blood Institute to promote The Heart Truth®, a women's heart health awareness and action campaign. Funding is provided by individuals and corporations including The Heart Truth partners Belk Department Stores, Diet Coke, and Swarovski. The Heart Truth®, its logo, and The Red Dress® are registered trademarks of HHS.
About The Heart Truth®
Although significant progress has been made in increasing awareness among women that heart disease is their number one killer (from 34 percent in 2000 to 69 percent in 2009), most fail to make the connection between its risk factors and their personal risk of developing heart disease. The Heart Truth® created and introduced the Red Dress as the national symbol for women and heart disease awareness in 2002 to deliver an urgent wake-up call to American women. The Red Dress® reminds women of the need to protect their heart health, and inspires them to take action. For more information about women and heart disease, including materials such as The Healthy Heart Handbook for Women and fact sheets about women and heart disease, please visit http://www.hearttruth.gov or call the National Heart Lung and Blood Institute (NHLBI) Health Information Center at 301-592-8573.
About HealthQuest Northeast Connecticut
HealthQuest Northeast CT is a regional collaborative health and wellness partnership working to make northeastern Connecticut a healthier place to live, work, learn, and play. The HQ Leadership Team includes: The Northeast District Department of Health, Day Kimball Healthcare, Generations Family Health Center, Northeastern Connecticut Chamber of Commerce, Plainfield Public Schools, Plainfield Recreation Department, Quinebaug Valley Community College, Representative Mae Flexer, Senator Donald Williams, Steven Townsend, Thompson Ecumenical Empowerment Group, Town of Putnam Community Development and WINY Radio.