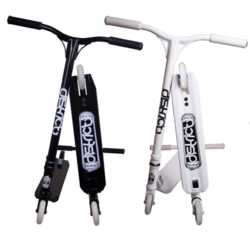 Freestyle scooter passion is at our core, Eastward Sports Group provides a one-stop resource for all retailers needs.
CORONA, CA (PRWEB) January 31, 2013
We are pleased to announce Eastward Sports Group and Dominator Scooter Accessories(DSA) have merged to become North America's largest Freestyle Scooter distributor. Now unified as Eastward Sports Group, the merge of these two companies will give retailers in the US, Canada and Mexico the most diverse brand and product selection of any scooter distribution company. Leading brands include; District, Envy, Sacrifice and Addict Scooters along with Eagle-Sport Wheels and ODI Grips. Additionally, retailers will soon benefit from the expansion of new DSA scooter accessories. Eastward Sports Group is the one-stop wholesale resource for retailers looking to carry an expansive array of scooter brands with superior customer service at the forefront. Most importantly, this business merger will save retailers both time and money, as orders will be placed through one central website, and retailers' margins will be increase with the consolidation of shipping costs.
"Over the last year, our customers have continually asked about ordering and shipping Eastward and DSA products together to save on time and shipping costs. We've been listening and it just makes sense for us to combine the operations of both companies to become more efficient and help our customers continue to grow their businesses", says Dave Ward. The merge will officially take place February 1, 2013, at which point all products will be offered through the Eastward Sports Group B2B website http://www.eastwardsports.com