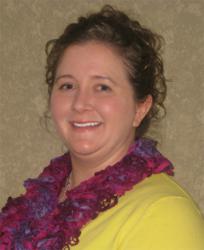 I look forward to my responsibilities in this new position, as well as the challenges and opportunities that it will bring
Bristol, VA (PRWEB) January 31, 2013
Settlers Life Insurance Company is pleased to announce the promotion of Amy Smith to the new position of Marketing Communications Director.
Mrs. Smith is responsible for the planning, implementation, promotion and management of Settlers' marketing communications strategy to support the company's business plans and objectives as it continues to build the Settlers brand with consumers and licensed agents in the final expense life insurance niche.
A graduate of Virginia Intermont College, she has excelled as Advertising Coordinator for Settlers Life since 2009. Having demonstrated her leadership potential, she was recently chosen to represent Settlers Life in the Bristol Chamber of Commerce's 2012-2013 LEAD Bristol Program. This nine month program develops leadership skills and community awareness in business professionals through the completion of small group community service projects.
When Mrs. Smith was asked about her new role at Settlers, she responded, "It has been very exciting to be a part of the Settlers Life family and see how we've grown over the past three years. I look forward to my responsibilities in this new position, as well as the challenges and opportunities that it will bring."
Settlers Life Insurance Company is a member of the NGL Insurance Group, and maintains its primary administrative office in Bristol, Virginia. Settlers Life has 71 employees and more than 3,200 independent agents appointed in thirty-six states. Since 2007, Settlers Life has maintained an A. M. Best financial strength rating of "A minus" (Excellent), the fourth highest of sixteen such ratings. A.M. Best states that an "A minus" rating "is assigned to companies which have, in our opinion, an excellent ability to meet their ongoing obligations to policyholders." A.M. Best is the oldest and most widely recognized rating agency dedicated to the insurance industry.