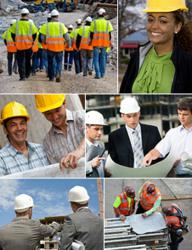 We're happy when our members are happy, and we know staying employed, finding top talent and winning and completing successful projects are the keys to that happiness.
Austin, TX (PRWEB) January 31, 2013
Construction Connection announces a new initiative to harness the power of social networking sites to promote individual and company members of their website. The construction industry networking and hiring site is working with Texas company McGirr Interactive Communications to broaden the reach of their community through Facebook, Twitter and LinkedIn. The campaign seeks to make their members more visible than ever and direct more people to their profiles through social networking.
ConstructionConnection.com is a website specifically tailored to the construction industry and seeks to help those working in the industry at all levels. By completing the free registration and profile, individuals can enjoy the many benefits of the site such as free job matching, educational resources, career advice and more. Construction companies enjoy free job posting, access to many educational and helpful industry-specific resources and professionals. For example, the Construction Connection partners, comprised of service and product providers to the industry including legal firms, engineering firms, prevailing wage benefit consultants, and software consultants, serve as resources to members.
In addition to these benefits, one of the chief goals of the site is to help individuals and small to mid-sized construction companies gain exposure online and share resources and knowledge with one another. Through their new campaign to bolster members' exposure and experience via social networking, Construction Connection encourages discussions and conversations among people in the industry. On LinkedIn, for example, members of the construction community ask each other for advice, recommend tips and expert opinions, or just talk about leading issues in the industry. Combined with their Construction Connection profile, members can quickly increase their online visibility.
"A lot of small construction businesses don't have websites, or have minimal online presence," says Co-Founder Kent Leighton. He continues, "ConstructionConnection.com is already a big site with lots of exposure, so by joining our community – on the site and through our social networking groups – they're tremendously increasing their odds that someone will find them with an employment match or a business to business opportunity."
Both Leighton and his partner Suzanne Breistol are passionate about helping people make a match for job opportunities and promote their companies and services to others in the industry. Working with the experts at McGirr Interactive Communications (MIC), the duo has set their sights high. MIC promotes individual and company members, construction-related news and more through social media giants Facebook, Twitter and LinkedIn. With the new campaign, Construction Connection's network of over 50,000 registered members is growing at an astounding pace.
"We can reach so many people who haven't signed up on ConstructionConnection.com yet," explains Joey McGirr, owner of MIC. "The goal of the campaign is to expose the individual members – laborers, tradespeople, heavy machinery operators, superintendents, executives – to companies who are hiring. Vice-versa, we want to make sure company members – general contractors, specialty contractors, architects, engineers, real estate developers, commercial construction companies and homebuilders – are also visible, so that they can be found by people looking for their services and products."
By engaging construction professionals across the US, on their own site as well as through the social networking sites, Leighton and Breistol hope they have found the recipe for all-around success. "We're happy when our members are happy, and we know staying employed, finding top talent and winning and completing successful projects are the keys to that happiness," Leighton says. "Through this new campaign we hope everyone will become a Construction Connection member and work together to strengthen the construction community."
ConstructionConnection.com was created out of a need for a more effective and streamlined way for construction industry professionals to get matched with the right industry jobs and with the right industry opportunities. The partners of Construction Connection, both industry professionals themselves, listened to both company and individuals' dissatisfaction with the traditional job boards, the paid resume blasts, the overpriced resume services and overall lack of sympathy toward the individual candidate. They listened to the dissatisfaction from companies who post jobs only to get many irrelevant results or having to purchase high priced ads to showcase their company. Construction Connection is a patent-pending, one-of-a-kind profile creating / match-making system. The system delivers effective results. Construction Connection saves you time, money and aggravation by matching people to people, people to companies, companies to people, and company to company.