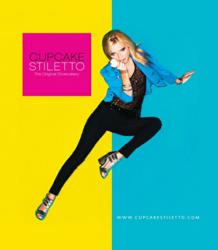 Style is sweet.
Los Angeles, CA (PRWEB) January 31, 2013
Cupcake Stiletto, where "Style is Sweet", makes its debut February 11, 2013 at the Westfield Topanga Mall as the very first designer cupcake and shoe cart. This cart will be the home of the "Original Shoecakery". The Topanga Mall is located at 600 Topanga Canyon Blvd., Cango Park, CA 91303.
Cupcake Stiletto was originally launched last September as a web store that bakes gourmet cupcakes and features shoes from independent designers. Cupcake Stiletto's concept brings two different industries under one umbrella.
The designer retail cart will feature a modern collection of women's shoes from independent designers such as Dolce Vita, Madison Harding, Elly Clay and Matiko. In addition, the cart offers different collections of freshly-baked gourmet cupcakes of unique a scrumptious flavors. The design of each cupcake collection is influenced by art, culture and fashion.
At Cupcake Stiletto, the motto is Style is Sweet, meaning style should be embraced and expressed freely, without limits. Style is something you are born with, it's something personal and unique to you. These are the principles by which Alicia Worthy founded Cupcake Stiletto. The journey began in 2004 while Worthy was a student at the New York University School of Law living in the West Village where she fell in love with fashion. During her study breaks, she would purchase her favorite sweet, a vanilla cupcake, and walk the streets of SoHo.
In 2011 Worthy left her job as a fortune 500 attorney to pursue her two favorite passions cupcakes and shoes. Worthy teamed up with professional chef, Edward Thompson, who has worked in premier hotels in Las Vegas, including the Ritz Carlton, to create cupcake flavors and modern concepts.
At Cupcake Stiletto, every cupcake is created with meaning and baked with real, natural, organic and high quality ingredients so customers will have an authentic tasting experience. Each shoe expresses the voice of its independent designer and is selected for the girl who embraces her personal style and freely expresses it.
You will still be able to order from the website and Cupcake Stiletto offers nationwide delivery. For more information or to order http://www.cupcakestiletto.com