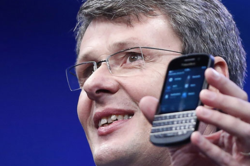 We see quickly growing interest by EMS and firefighters, and other near-police agencies.
Toronto, Ontario (PRWEB) January 30, 2013
Recently back from Amsterdam where he delivered a keynote presentation at the inaugural BlackBerry International Police Summit, Mobile Innovations founder and president Gary Bauer announced that his development team had readied eight MPA (Mobile Police Assist) apps for the new BB10 smartphones and PlayBooks. Together with an inexpensive, easy to install PlayBook docking system, (called MPASmartDock) the apps represent a turnkey in-vehicle policing solution that costs eighty percent less than the ruggedized laptop alternative.
The new BB10 and PlayBook apps and the SmartDock will be showcased with the official developer forum event to be held at the Toronto Sheraton February 4 and include solutions for:

GPS tracking, tagging and CIRT
Activity and vehicle condition reports
Record search for vehicle, person and address search
Eticketing and voice-to-text transcription
While in Amsterdam, Bauer and UK partner Bruce Murchie from Xenium Solutions carried out a soft launch of the MPA apps and docking system to an international police audience, and had the added opportunity to discuss their use in the field during his presentation.
"We talked about the adoption trends for PlayBook and BB10 adoption. We see growing interest by EMS and firefighters. We also see that North American agencies tend to favor tablets mounted in their vehicles, whereas European agencies view tablets as portable, personal kit on the officer's hip."
Bauer's pre-BB10 launch presentation resulted in two in-vehicle pilot programs with new customers and with their turn-key MPASmartDock kits shipping this week.
"We are not the only company to offer in-vehicle tablet up-fits or mobile policing apps, but we are the only people who have it all for PlayBook and BB10 in a one-stop solution, for one to two thousand dollars depending on the configuration." Says Bauer. "We're very excited not only about to our appearance at the BB10 launch in Toronto, but even more to offer our apps through the new and dramatically improved BlackBerry World App Store." Bauer will be meeting with customers and doing demos of the Mobile Innovations MPA apps and the SmartDock at the upcoming Canadian Forum.
###
For more information, please contact:
Gary Bauer – President
Mobile: 1-416-889-9997
Email: garyb(at)mobinnoco(dot)com
Mobile Innovations is a privately held company dedicated to enhancing law enforcement with the most advanced mobile data products available. Based in Niagara Falls, Canada, Mobile Innovations also has operations in Toronto and works with over fifty agencies across Canada, the United States and in the United Kingdom. Mobile Innovations is a member of the BlackBerry® Alliance Program with seven years of service developing and deploying advanced mobile solutions for BlackBerry BB10 and PlayBook devices