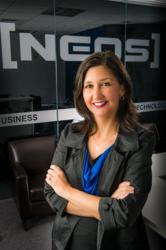 Business process and compliance are on a collision course...
Hartford, CT (PRWEB) January 31, 2013
NEOS LLC will sponsor the IQPC Business Process for Financial Excellence 2013 Conference. The conference, taking place in New York City on March 20th and 21st, will address the unprecedented regulatory, economical and operational pressures faced by the financial services industry.
Carla Gregory, Vice President, Consulting Operations, NEOS, will be speaking about investigating process control topology and how to best utilize it within financial services. According to Gregory, "business process and compliance are on a collision course as financial services companies confront the complexities of managing both." The Process Control Topology approach helps companies who need a view into how controls, business process and application architecture cooperate to achieve compliance with regulatory and risk management requirements.
NEOS is very excited to sponsor this event and discuss the challenges in the financial services industry. This is the only event bringing together the financial service's industry's most progressive thinkers from leading retail and investment banks and insurance companies. To learn more about the event, click here.
About NEOS LLC
NEOS is a management consulting and technology services firm with unparalleled experience in holistic modernization, enterprise data and business operations consulting throughout the US, Europe, the Middle East and Asia. Clients range from large mid-cap companies to the Global 1000 segments including financial services, insurance and media. Services also include process, organizational and operational consulting, enterprise architecture strategies and design, reviews and planning, deployment and data analysis. NEOS is the parent company of Vgo Software that specializes in modernization analysis and conversions solutions.
About IQPC
The International Quality & Production Center (http://www.iqpc.com) is a production company that provides business executives around the world with tailored practical conferences, large scale events, topical seminars and in-house training programs, keeping them up-to-date with industry trends, technological developments and the regulatory landscape. IQPC's large scale conferences are market leading "must attend" events for their respective industries.