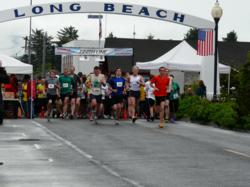 Our active events offer camaraderie, challenge and the opportunity to realize personal fitness goals in a gorgeous setting.
Seaview, Washington (PRWEB) January 31, 2013
With New Year fitness goals still in sight, the Long Beach Peninsula Visitors Bureau announced a handful of fun and challenging outdoor events for 2013. Among them are 5 and 10K runs, a half marathon, a sprint triathlon, and Olympic games for dogs. The announcement was made by Andi Day, executive director of the bureau.
"Just being at the beach inspires well being," says Day. "Our active events offer camaraderie, challenge and the opportunity to realize personal fitness goals in a gorgeous setting."
First up is the Beach to Chowder 5K Run/Walk and 10K Run, taking place on June 22, from 9 to 11:30AM. This coastal course is on hard-pack sand, with cooling ocean breezes and sweeping views of the Pacific Ocean. The photo-worthy finish line is under the World's Longest Beach arch. Entry fee includes post-race clam chowder.
And, for those with dogs who have set their sights on achieving an Olympic medal or playful pets who just want to have fun, Doggie Olympic Games is a must. The good times start at 4PM on Friday, June 28, with a pre-registration pizza party and low-key events. Canines compete in more active events such as Peanut Butter Lick, Dunking for (Hot) Dogs and Nadia Comaneci Agility at the Bolstad Ave. beach approach, Long Beach starting at 1PM on Saturday.
On July 6, the Firecracker 5K Walk/Run is notable for its extremely challenging and beautiful 5K course which climbs from the Port of Ilwaco up the Cape Disappointment headlands on the south end of the Discovery Trail and back. Perfect for those who love to sprint up and fly down steep hills, the race starts at 9AM at the Port of Ilwaco.
Long Beach will host the Race Against Violence on August 3 at 10AM, at the Bolstad Ave. beach approach. A 5K run or walk on the beach, the event presents trophies to the top female and male finishers. Proceeds are used to promote awareness and education about domestic violence.
Showcasing the amazing trail system on the Long Beach Peninsula, the certified Discovery Trail Half Marathon draws competitive and recreational runners from the Northwest and beyond. Slated for September 14, this late-season event follows the contours of the dunes with inspiring glimpses of the Pacific Ocean and Cape Disappointment headlands.
On the following weekend (September 21), Ilwaco presents the 2nd annual Cape Disappointment Sprint Triathlon & Duathlon. Starting at 9AM and finishing at noon, this event challenges athletes with a 500-meter swim in Black Lake, a 19.6K ride on the Discovery Trail, and a 5K run along the Black Lake trail system.
About the Long Beach Peninsula...
A 28-mile long spit of land in the southwestern-most corner of Washington, the Long Beach Peninsula is home to a string of coastal communities with satisfying restaurants, fresh seafood, comfortable accommodations, unique shops, and fine art galleries. Attractions include national and state parks, the Lewis and Clark Interpretive Center, two historic lighthouses, an 8.5-mile paved coastal bike and pedestrian trail, a wildlife refuge, one-of-a-kind museums, and a 20-plus mile long stretch of wide, sandy, public beach.
For more information, please call the Long Beach Peninsula Visitors Bureau at 800-451-2542 or access http://www.funbeach.com.