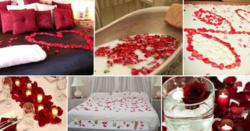 "Start by taking a moment to reflect upon the recipient's favorite color and surprise them by ordering a beloved color instead of the traditional red or pink flowers."
Ojai, CA (PRWEB) January 31, 2013
FiftyFlowers.com, an online wholesale flower provider that serves the United States and Canada, is preparing for a busy Valentine's Day and plans to import over 65,000 flowers from their Ecuadorian partner farms. They encourage customers to order ahead, personalize their flower orders, and arrange their flowers in unique ways to enhance the fresh flower giving experience. They will be offering a number of weekly specials in the days leading up to Valentine's Day and have prepared this flower buying guide to help their customers make the best flower purchase.
Start by taking a moment to reflect upon the recipient's favorite color and surprise them by ordering a beloved color instead of the traditional red or pink flowers. Or, order roses in a color that has special meaning to the relationship using this list as a guide:

White roses represent purity, innocence and youthfulness and are often associated with young love or new beginnings. Give these to a new sweetheart or to say, "I'm ready to start anew, I love you."
Yellow roses are said to represent friendship, joy and caring and their warm tones convey warmth and affection. Buy these for a close friend or someone who needs some cheering up.
Lavender Roses are considered a symbol of enchantment, wonder, and love at first sight. Send these to a secret crush to let them know they have caught your attention.
Peach Roses are used to convey modesty, genuineness, sincerity and gratitude. Send these to show care and compassion.
Orange Roses stand for desire, fascination, enthusiasm and energy. Give these to say, "You make me so excited for our future!"
Blue Roses cannot be created by nature, and therefore represent the mysterious, impossible or unattainable. Give a blue rose to say, "You are extraordinarily wonderful!"
Mix two or three colors together to send a more personal message.
Personalize Valentine's flowers even more by selecting a flower with a special meaning. For example, a couple that enjoyed an island getaway for their honeymoon can rekindle that moment by sending tropical flowers like orchids or anthurium. Similarly, a couple that celebrated with white hydrangeas on their wedding day can renew that memory by sending the same for Valentine's Day. Another suggestion is to select a flower by it's meaning, using this guide adapted from Scoble & Field's book The Meaning of Flowers:
-Allium – good fortune and prosperity
-Anthurium – intense attraction
-Asters – beginnings of all great things
-Daisies – innocence
-Delphinium – swiftness and light
-Gardenia – feminine grace and artistry
-Gerbera Daisy – enduring purity
-Gladiolus – natural grace
-Mums – hope in dark times
-Red Tulips – a declaration of love
-Ranunculus – charm and attraction
-White Lily – youthful innocence
Displaying the flowers in unique patterns, or spreading them around the house can also add to the romance of giving fresh flowers. Sneak out of bed early and leave one stem by the bedside table, place a few stems in a bud vase in the bathroom, slip a single stem into a loved ones car and then place the remaining stems on the dining room table. Another idea is to order rose petals instead of whole flowers and arrange them in an arrow directing loved one's to the dinner table, the bathtub or the bedroom. Continue this theme by sprinkling the rose petals around the dinner table, in a fresh bubble bath or over the bed, spelling out a love quote or simply writing "xoxo" with the petals.
For more information on FiftyFlowers.com wholesale flowers visit the website or browse their Pinterest page or Blog for ideas on how to put these ideas to work for Valentine's Day. FiftyFlowers.com carries over 2,000 flower varieties, shipped directly from their farms to your door. They specialize in wholesale flowers and pride themselves in having excellent customer service available via phone, email or live chat coupled with a 100% event day guarantee, which guarantees the quality of their flowers to every customer. They also provide their customers with extensive DIY information in the form of videos, a continuously updated blog, free phone consults with floral designers, and social media.