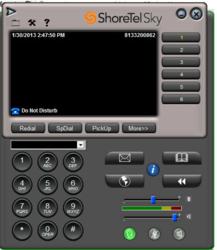 Odessa, FL (PRWEB) January 31, 2013
GateCrafters.com, a division of Web Direct Brands, has switched to a softphone system to boost the service levels they are capable of providing. Softphones are phone systems that are entirely implemented through the internet and managed through the operator's individual computer. The main purpose for adopting a softphone is to provide flexibility for routing, answering and coaching. GateCrafters.com sells driveway gates and gate openers online primarily to home owners who are performing the installation themselves.
Support focused companies such as GateCrafters.com can utilize softphone for allowing after hour cell phone forwarding, on demand coaching by senior support members on phone calls, out of office phone attendants with access to in-office phone functionality, and other phone call computer integration tasks. Joel Dimeo, lead technician at GateCrafters.com commented on the softphone, "The flexibility of this system has amazing effects on access to information for customers. For example, if I am at a training seminar and I am logged into my laptop I can take a customer call on a project I have been working on just as if I am in the office. The experience on the customer's end is no different, but the availability of the technician the customer needs is increased greatly."
In addition to helping to service DIY gate opener customers the phone system allows for inner office mobility, the softphones are run through laptops which allows the representatives to work from any location in the office including the treadmill, lounge area or even outside. Web Direct Brands, inc on their corporate websites endorses an employee friendly work atmosphere including indoor vegetation, an office cafe and gym.
To learn more about the softphone system and gatecrafters.com support structure visit webdirectbrands.com.
GateCrafters.com is a division of Web Direct Brands, inc.
Web Direct Brands, inc is a specialized online retailer focusing on bringing customer service and extensive product knowledge to niche marketplaces.