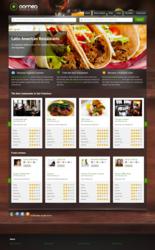 We're focusing on helping users discover regional cuisines; for instance there's more to Chinese cuisine than Panda Express: there's Hakka, Hunan, Szechuan cuisines just to name a few
San Francisco, CA (PRWEB) January 31, 2013
Oomea, an innovative restaurant review platform launched today in San Francisco. Oomea challenges diners to try new cuisines and open their palate to global flavors and original dining experiences. "We're focusing on helping users discover regional cuisines; for instance there's more to Chinese cuisine than Panda Express: there's Hakka, Hunan, Szechuan cuisines just to name a few", says founder and CEO Benoit Spolidor. Reviewers are inspired to try new cuisines in their city with a map of the world that appears on each reviewer's profile. One can click on any country to discover what restaurants specialize in that specific cuisine. Through this culinary exploration diners can learn about new cultures available right in their own city.
Additionally, Oomea has created a reputation ranking system to prevent reviews from being gamed. The higher your reputation, the higher the impact of your reviews on a restaurant's ratings. A reviewer's reputation is impacted by how many restaurants they have reviewed and how many followers they have gained. Another aspect of Oomea is the participation of well-known food bloggers. Local San Francisco food bloggers such as Grace Keh of San Francisco Food are active reviewers on the site. Oomea has partnered with specialty food company, a pour toi to offer "perks" (gourmet food boxes) for those reviewers that reach a reputation level of 10.
Oomea was founded by Benoit Spolidor in June, 2011 (Oomea (oo-me-ha) comes from Haumea the Hawaiian Goddess of fertility & childbirth, who created the island and all the plants, she is the one who provides). Benoit initially moved to the Bay Area to get his Master's from Stanford in 1999 and was inspired by the entrepreneurial spirit of the Bay Area. He had always dreamed of launching his own start up and as a Frenchman living in the US and married to a German woman, he wanted to create a platform that connects cultures and educates people on different cuisines.
Along with his two co-founders and former colleagues, Joel dos Santos and Aurélien Amsellem, the team has been bootstrapping the company since the start. Joel is an experienced designer and Aurélien is a software engineer. "We bounced ideas back and forth and came up with the initial concept. We had a big dinner with close friends to showcase our ideas and we got a lot of constructive feedback. People can be pretty creative after a few glasses of wine!".
With plans to launch Oomea beyond San Francisco, the team is also in the process of developing a mobile app so that diners can have easy access to review and discover new cuisines in their city. Stay tuned for more!