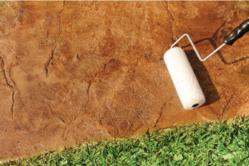 Restore concrete surfaces with a fresh application of eye-popping concrete sealer!
Oklahoma City, Oklahoma (PRWEB) January 31, 2013
Concrete sealers provide decorative concrete installations with a protective barrier from weather, chemicals, dirt, abrasion and other elements, while enhancing the concrete's color and natural finish. The Stamp Store's DIY Concrete Sealers training course for homeowners will teach participants how to choose the right sealer for any decorative concrete project, as well as the application tips and techniques used by decorative concrete professional contractors.
Applying a new coat of sealer to a decorative concrete surface provides an instant makeover, restoring the surface to its original splendor and bringing out the colors and details of the concrete. These concrete sealers can be used on patios, pool decks, driveways, walkways and other areas that may need a facelift.
The Stamp Store's concrete training programs are led by industry professionals with years of experience in all areas of decorative concrete, including concrete sealers, stamped concrete, concrete countertops, vertical concrete and more. This DIY Concrete Sealer training session also includes a complimentary continental breakfast! Reserve a spot today by contacting The Stamp Store.
DIY FOR HOMEOWNERS: Learning To Use Sealers - Make That Color Pop!
April 20
9:00 am -11:30 am
Cost: $20