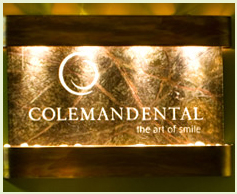 much easier and seemless solution than permanent braces
Houston, TX (PRWEB) January 31, 2013
Invisalign® in Houston from Dr. Coleman has changed the way teeth are realigned and straightened. The process involves a series of custom-made trays that snap on over the teeth. Brackets are still necessary for the straightening process, but the plastic aligners can be removed for eating, brushing and flossing, a much easier and seemless solution than permanent braces.
Instead of the visibility associated with braces, Invsalign® uses clear aligners making it nearly impossible to see. Not only will this revolutionary procedure Invisalign® avoid the use of bulky metal, the process has never been faster. Where orthodontic procedures used to take up to 2 years with metal braces, the Invisalign® procedure is complete usually within 14 months.
No longer will you need to come in for weekly painful adjustments. Patients going through the Invisalign treatment can expect to have new molds done every other week.
The Invisalign® process at Colemen Dental allows the patient to see the end result before treatment begins. A mold and photograph of the patient's teeth are scanned into a computer to generate a 3D virtual model of the patient's mouth. This allows the patient to see how their mouth will look after the procedure has been completed.
Coleman Dentistry not only offers Invisalign in Houston to straighten teeth, but cosmetic, sedation, porcelain veneers and Lumineers to create a brand new smile. Dr. Coleman has 15 years of experience as the official dentist of the Miss Texas USA pageant, and has created winning smiles for several Miss USA winners and one Miss Universe.
For More Information on Coleman Dentistry for Invisalign® visit, http://clearsmileshouston.com or call 1-832-239-8108