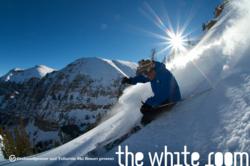 We're excited to have some of the finest brands in the world, including DPS Skis, Zeal Optics, TASC Performance Wear, Strider Running Bikes, FITS Socks, 22Designs, the Colorado Yurt Company, Montanya Rum and Telluride Brewing Company
Telluride, CO (PRWEB) January 30, 2013
GrahamSpencer (GS), a full-service integrated strategic communications firm with offices in Ridgway, CO, Rockford, IL and Hoboken, NJ, announced new additions to it's novel media event, The White Room, taking place March 6-9 at Telluride Ski Resort.
In partnership with Telluride Ski Resort, GS is bringing editors and brands together for three days of great stories, camaraderie and first-looks at the latest new product innovations. 
Brian Scranton, Managing Director of GrahamSpencer, explains, "We're excited to have some of the finest brands in the world as part of this novel event, including DPS Skis, Zeal Optics, TASC Performance Wear, Strider Running Bikes, FITS Socks, 22Designs, the Colorado Yurt Company, Montanya Rum and Telluride Brewing Company. We expect to announce a few more brands in the coming weeks, as well." 
For more information on The White Room, visit http://www.grahamspencer.com/white-room or call Brian Scranton at 970-201-8570.
About GrahamSpencer
Founded in 1987, GrahamSpencer is a full-service strategic communications firm that helps clients in a wide range of disciplines: research, strategy, design, web, motion, advertising, social media and public relations. GrahamSpencer has offices in Rockford, Illinois, Ridgway, Colorado and Hoboken, New Jersey.
About Telluride Ski Resort
Stashed among the highest concentration of 14,000 foot peaks in North America, Telluride offers some of the most spectacular skiing and riding on the planet. Unique culinary experiences on the mountain blend with the world-class restaurants, sophisticated shops, luxury hotels, and exquisite spas Telluride offers. Plus, getting here is easier than ever with non-stop flights from 9 major hubs, and getting around is a breeze with our free gondola. Discover why Telluride is Unmatched in North America this winter.