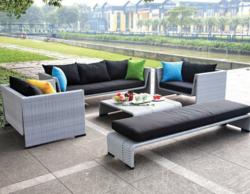 Modern outdoor furniture - At Wholesale Prices
Los Angeles, CA (PRWEB) January 31, 2013
These latest additions bring to consumers choices in design elements, fabrics, color combinations and beautiful style for their outdoor living space. "We're proud to be partners with manufacturers like All Things Cedar and Tosh Furniture, both of which provide some of the most relevant outdoor and patio designs on the market today", said a DA Stores spokesperson.
This season, comfort is king and it's seen in the chaise lounges, outdoor patio sets and benches. Outdoor Interiors has introduced its latest in Swing Lounger which offers a contemporary twist on a classic favorite. Porch swings, outdoor dining collections and most recently, playsets for the little ones are what dominate the DA Stores digital sales floor.
For those looking to get a head start on their spring and summer planning, DA Stores is offering big savings in its outdoor furniture and accessories. It's also a great time to explore all of the new manufactures and their contributions to the modern furniture industry. "The beauty of partnering with these manufacturers is that each presents different choices and those different perspectives benefit our customers with an eclectic array of fabulous options."
Because many of the collections can be sold separately, one new trend is found in incorporating different textures and styles. It's truly the perfect solution for those wishing to define their own look, whether it's poolside or part of the outdoor living space.
Consumers are encouraged to visit the digital storeroom often as the company continues to expand all of its modern furnishings, accessories and decor.