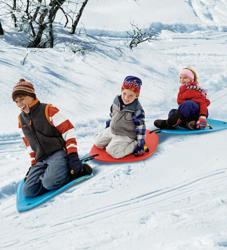 Outdoor play toys build strong bodies and help kids maintain a healthy weight.
(PRWEB) January 30, 2013
Outdoor play is especially beneficial and research has shown that children get less outdoor time than they did when their parents were growing up. Today's children spend only seven minutes a day playing outside compared to seven hours a day in front of an electronic screen, according to the National Wildlife Federation, and that may be having a detrimental effect. Outside play helps kids stay active and healthy. It also raises levels of Vitamin D, essential for healthy bones and a protection against many diseases. Being outside also has an effect on mental health. Studies have shown that schools with outdoor programs have kids that score higher on standardized tests and have better critical thinking skills. And playing outside can improve mood, leading to less stress and emotional anxiety.
Playing outside when the weather gets cold means kids need to be dressed appropriately, but they can still play many of their favorite games and activities. Tag is a great game for the cold weather since children are running and will stay warmer. A similar game, Bucket Blast, is played with beanbags and adds the extra challenge and fun of hitting a target strapped to the opponent. Exploring the backyard or a neighboring park is always a great activity and a change in seasons can give kids new treasures to find. For the true adventurer, adding a cool Compass or Shoe Lights for exploring in the dark as add even more possibilities.
Of course, if there is snow, outside play can be even more fun. Bundling up in layers for a session of sledding or building a snowman is always a favorite. HearthSong has several ways to make snow-time fun extra special. For the ultimate sledding experience, try the Connecting Sleds. Kids can make a train of sleds and take off downhill together. Or, to build the coolest igloo, use the Snow Block Maker for building bricks that make construction a breeze. And everyone loves to make a snowman, so make it extra special with the Snowman Decorating Kit for the silliest faces in the neighborhood.
About HearthSong
HearthSong since its beginning in 1983 has been committed to helping parents follow their instincts to provide their children with age-appropriate, wholesome, quality playthings. They believe childhood is a vital chapter in life-a special time when children can be occupied with the joy of being children. The name HearthSong was chosen to reflect core family values - the Hearth, a traditional symbol for the center of the home, and Song, a symbol of family spirit and of a special playfulness that parents and children enjoy together. Each item is carefully selected for its quality, safety, and relevance to your child's development and they are steadfast in their commitment to provide you with Toys You'll Feel Good About Giving®. Every item they sell is backed by a 100% satisfaction guarantee. HearthSong is a part of the Plow & Hearth Family of Brands which also includes quality toys from Magic Cabin® and weather instruments from Wind & Weather®.