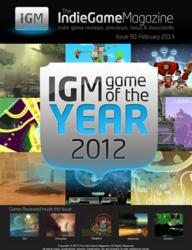 Philadelphia, PA (PRWEB) January 31, 2013
Indie Game Magazine (http://www.indiegamemag.com), the premier source of independent gaming news, reviews and culture, has just published its milestone 30th issue, featuring an oversized look at the best independent games of 2012.
This is the issue everyone has been waiting for, check out all the best indie games of 2012 in IGM's annual IGM awards issue. Check out all of the Reader's Choices, Honorable Mentions and Editor's picks from all of the stellar games from this past year. This issue also features a great interview with Stone Rage Developer, Mountain Wheel games and reviews of Grimind, Miasmata, Teleglitch, Pid, and Primordia. Grab this issue filled with all the best indie games of 2012 and help support indie games and the geeks who write about them at http://www.indiegamemag.com/issue30/
IGM is available for single purchase as well as via subscription in both print and digital formats, as well as the iPhone and iPad. Our recently updated iPhone app is only $0.99 and features newsstand integration, embedded videos featuring indie game reviews, developer interviews and more. Check it out in the App Store: http://www.bit.ly/igmappns
If you're an Android user, check out our Zinio subscription and App: http://www.zinio.com/indiegamemag/
ABOUT IGM:
Indie Game Magazine (http://www.indiegamemag.com) is the premier source of news and culture for the independent gaming. Started in October 2008 and published bi-monthly by Mike Gnade, IGM has matured into a definitive voice for the indie gaming scene. Combining no-nonsense reviews, in-depth reviews and long-form features with the leading lights of the industry, the magazine, like the games it covers, is independently owned and fiercely independent as it strives to highlight the artists and community behind what it deems the most creative branch of the video gaming universe.