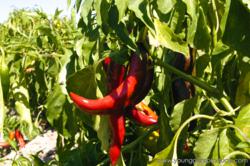 we are sure you will approve!
Hatch, NM (PRWEB) January 31, 2013
Young Guns Produce, Inc. of Hatch, New Mexico, one of the largest producers of Hatch green chile, has announced plans to begin processing red chile sauce and adding packaged sauce to its line of products.
Chris Franzoy, President of Young Guns Produce, Inc says they made the decision only a few weeks ago "after realizing there was an overwhelming demand for quality red chile products."
Red chile is far different from the green chile many are used to when they think of Hatch or New Mexico Chile. Green chile is harvested in late summer and has a distinct taste and aroma. The meat is usually roasted, peeled and then sold in cans or frozen (not to mention fresh).
To make red chile products growers allow the chiles to stay on the vine until partially dried, and then harvest and spread the chile in the sun or bake them to continue drying. The taste is far different than the green, but it is a long held staple of many New Mexican dishes.
Red chile sauces, typically used for dishes like red chile enchiladas and red chile pork—both very popular dishes in and around New Mexico—are the dried red chile reconstituted and then blended. It is then typically prepared with a mix of spices and salt.
Young Guns Produce, Inc. will package their red chile sauce in both 14 ounce and 56 ounce containers, adding this new product to their growing line of red chile items, including dried red chile pods and red chile ristras (red chile pods strung into decorative hangers).
Franzoy says the new red chile sauce will be all natural and says that while he can not divulge their recipe, "we are sure you will approve."
About Young Guns Produce, Inc.
Young Guns Produce, Inc. is located in Hatch, New Mexico (also known as, "The Chile Capital of The World"). The corporation was established in February of 1992. The principal owners are Chris and Tammy Franzoy.
Young Guns Produce began its focus on marketing produce grown in Hatch, New Mexico with the idea of supporting the community and delivering great food to the consumer. Chris has always headed up the sales department, and has been at the desk for over 25 years.
The company has evolved into one of the largest suppliers of onions and fresh Hatch Green Chile, pumpkins, and New Mexico Pinto Beans in the Hatch Valley. The newest addition to our Hatch produce is our Frozen Hatch Green Chile.
For more information go online at http://www.younggunsproduce or call 1-575-267-3001