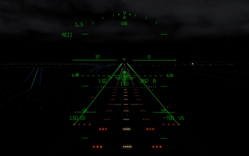 To commemorate the operational use of the first commercial HUDs we are releasing our X-Plane B-727 Classic Head Up Display in 32-bit & 64-bit versions.
(PRWEB) January 31, 2013
As part of their continuous updates of Head Up Display (HUD) simulators for the X-plane fleet, FlyRealHUDs.com is launching a B-727 Classic HUD. This HUD was one of the first Head UP Displays used widely in commercial operations in the late 80's and early 1990s. The B-727 Classic HUD gives a bow to those who flew Alaska, FedEx and UPS B-727 aircraft equipped with the first CAT III A manually flown HUD. This early model HUD was the beginning of the glass cockpit revolution, enabling pilots to take even the early model B-727 aircraft into extreme low visibility, and arrive and depart while others were stuck at the gate. Simple in form to many of today's Head Up Displays – it got the job done and was great way to learn the art of "HUD" flying.
The B-727 Classic HUD is one of many new HUDs that will be available from FlyRealHUDs.com. Riding the grand upgrade of X-Plane's advanced 64bit version, FlyRealHUDs.com has completed and put into the market, Head Up Displays (HUDs) that operate with both 32-bit and 64-bit versions for the PC and MAC. The 64bit versions provide enhanced speed, accuracy and responsiveness to X-Plane HUDs. When it comes to proficient and professional flying or just rolling through the clouds, realism and speed is what pilots know and expect.
When a pilot flies on instruments, they need and expect fluid realistic movement. When they take their aircraft through weather and turbulence, over terrain or into a stormy night approach, pilots trust their instruments; it's what gets them home. Convinced that flying the real thing was the only way to train, FlyRealHUDs.com introduced the first full fidelity HUD for X-Plane with all the expected functions that professionals need and use – and that includes fluid motion. The company has developed HUDs for X-Plane business jets, air transports and helicopters for use on a PC or MAC. The company also produces custom HUDs designed for training pilots on HUD operations on customer designated aircraft.
These revolutionary HUDs from FlyRealHUDs.com will enable pilots and engineers to draft, test and fly various X-Plane aircraft and helicopters, even vectored thrust aircraft, to confirm the true to life operation of the new 64-bit HUD. Stick and rudder and computation, test and integration, design and test and then…emerging from the smoke and confusion of anything new in aviation comes the real thing – FlyRealHUDs!
Marketing Director, Doug Hosmer commented on the new B-727 Classic HUD and the new line of 64-bit HUDs. "To commemorate the operational use of the first commercial HUDs we are releasing our X-Plane B-727 Classic Head Up Display in 32-bit and 64-bit versions. We wanted to honor this ground breaking technology that provided a huge step forward in low visibility landing capabilities. Converting our initial X-Plane 32-bit HUDs to support 64-bit systems required a timely and expert response. So, our development team at FlyRealHUDs.com closed the door of our Electronic Hanger and crafted code for our next generation of 64bit X-Plane HUDs in record time. We believe that airplanes stuck at the ramp won't do, so we didn't want to leave pilots flying X-Plane's 64-bit versions without Real 64-bit HUDs...that is how we got our name...FlyRealHUDs.com."
FlyRealHUDs.com is a company of aviation enthusiasts that love the art of creating and applying new technology in places most are afraid to go. Challenging the conventions of today's flight simulation markets, FlyRealHUDs.com believes you can fly the real thing. Inquiries about FlyRealHUDs.com can be made via their website. Website development and web marketing supplied by Atlanta SEO company, Interactive Search Marketing.