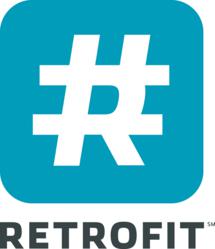 Sitting all day at work can wreak havoc on even the best-intentioned plans to lose weight....Retrofit creates strategies for small behavior changes that result in improved individual health and office productivity. -- Retrofit CEO Jeff Hyman
Skokie, IL (PRWEB) January 31, 2013
Two-thirds of Americans make New Year's resolutions to get healthy, but most fail to stick to a plan. Busy executives often need additional support to escape the trap of sitting behind a desk all day. Retrofit Inc., the weight loss program for busy professionals, is keeping employees active and accountable as they strive to shed those unwanted pounds for good.
More than 90% of Retrofit clients are losing weight on the innovative program using the latest wireless technology along with personalized guidance from highly trained wellness experts. Each client receives private lessons with a registered dietitian, an exercise physiologist, and a behavior coach via Skype™ videoconferencing.
Retrofit is setting an example of its strong commitment to combating obesity in the workplace by giving almost $300,000 of weight loss services to qualifying employees at one lucky company. Earlier this year, VISTA Staffing Solutions in Salt Lake City, Utah, was selected as the winner of the "Retrofit My Company" Contest.
The winning essay described how the majority of employees spend their days "practicing the sedentary art of desk-bound communication". For many VISTA employees, the gift of health couldn't have come at a better time. Retrofit cameras went behind the scenes to videotape candid interviews that revealed the challenges of losing weight.
Retrofit wellness experts will spend a year educating VISTA employees about how to avoid the dangers of living a sedentary lifestyle that have been well documented by researchers:

According to a recent study published in the Archives of Internal Medicine, those who spend 11 or more hours a day sitting are 40 percent more likely to die over the next three years regardless of how physically active they are otherwise.
Emerging research shows that sitting for long periods of time contributes to the risk of metabolic syndrome, heart attack and stroke risk, and overall death risk. Those who sit a great deal also have lower life expectancies and slower metabolisms.
Studies show that average adults spend 90 percent of their leisure time sitting down, and fewer than half meet World Health Organization minimum recommendations for 150 minutes of moderate-intensity physical activity each week.
"Sitting all day at work can wreak havoc on even the best-intentioned plans to lose weight," said Retrofit CEO Jeff Hyman, who flew to Salt Lake City January 2nd to surprise overweight VISTA employees with high-tech weight loss technology and services. "Retrofit creates strategies for small behavior changes that result in improved individual health and office productivity."
"I am hearing some great comments from our staff members who are already on the way to meeting their weight loss goals," said Clarke Shaw, Executive Vice President, VISTA Staffing Solutions. "Retrofit seems to have energized the participants. They feel confident that this will be the year they master their weight."
Retrofit will return to VISTA after a year of data-tracking to see the results firsthand.
VISTA joins a growing roster of Retrofit corporate clients including Dolby Laboratories, NFLPA Former Players, Millennium Pharmacy Systems, Oreck, Walgreens and more.
In addition to coverage in the Wall Street Journal, Retrofit has recently been featured in Forbes as the "front runner in harnessing wireless and remote technology to help its busy clients lose weight".
For more information on following VISTA on its journey to health, please contact jenniferz(at)retrofitme(dot)com.
About Retrofit
Retrofit, the weight loss program for busy professionals, is designed to deliver lasting results. Its innovative year-long program includes wireless monitoring of a client's weight, activity and sleep, as well as private lessons with a registered dietitian, exercise physiologist, and behavior coach. Retrofit recently raised $8 million in a Series A financing led by Draper Fisher Jurvetson (DFJ), bringing the total investment in Retrofit to $10.7 million.
Retrofit can be found on the Web at http://www.retrofitme.com and (855) 4-RETROFIT. Follow the company on Facebook and Twitter at @retrofitme.
About VISTA Staffing Solutions
VISTA Staffing Solutions, a division of On Assignment, Inc., is a leading provider of locum tenens physician staffing and permanent physician search services. Founded in 1990, the company helps hospitals, medical practices, and government agencies solve their physician staffing challenges. VISTA is the only agency that offers short- and long-term domestic jobs, international work opportunities, and permanent placement for physicians. The company is a founding member of the National Association of Locum Tenens Organizations (NALTO). Physicians can visit VISTA's website for more information about U.S. locum tenens, extended placements, international locum tenens, and permanent physician jobs. Health care facilities can visit VISTA's website for more information about U.S. locum tenens staffing, extended placements, international placements, and physician search and consulting services. For more information please visit: http://www.vistastaff.com.