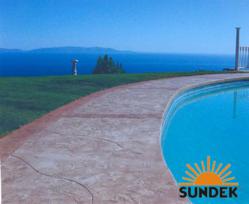 Just like skin, concrete is exposed to the elements and needs the proper level of protection.
Arlington, TX (PRWEB) January 31, 2013
Decorative concrete applications like pool decks, driveways, patios and walkways can add value, character and visual appeal to homes and businesses alike. Properly maintaining those decorative concrete surfaces ensures they will remain in excellent condition for years for come.
SUNDEK and their nationwide dealer network provides SPF, Sundek Protection Factor, a range of decorative concrete maintenance services custom designed to protect and maintain a variety of decorative concrete installations. The SPF services range from an SPF 5 simple cleaning, to an SPF 60 complete overhaul of the decorative concrete including custom staining, stamping and sealing.
Since 1970, SUNDEK has been leading the industry in concrete resurfacing and decorative concrete solutions, becoming the preferred concrete resurfacing company of home owners and commercial businesses nationwide. For more information on the SPF decorative concrete maintenance plans, contact a local SUNDEK authorized dealer today.