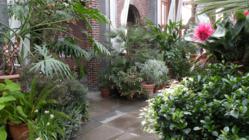 Take your love to this 18th century greenhouse, where flowers bloom year round - The Boston Globe
Boylston, Massachusetts (PRWEB) January 31, 2013
With Valentine's Day around the corner, romance is in the air and nowhere more so than at Tower Hill Botanic Garden, an exciting destination for first dates, a stunningly beautiful and award-winning wedding site and, according to the Boston Globe, one of the most romantic settings for a proposal in all of New England.
What makes this sprawling Boylston, Massachusetts playground so romantic? With 132 acres of garden paradise set amidst the rolling hills of bucolic Boylston, Massachusetts, Tower Hill offers a bevy of romantic attractions for couples and proposal-makers (and receivers).
Year-round romantic attractions include:
Favorite proposal spots such as the woodsy and ethereal Inner Park; statues of Eros and Cupid; the Summit; and the Orangerie, a greenhouse specifically recommended by the Globe:
"Take your love to this 18th century greenhouse, where flowers bloom year round. Bananas, palms, orchids, lemons, exotic flowers and oranges thrive in this beautiful garden," the newspaper declared in its recent "Best Spots to Propose in New England" feature.
Worcester resident Troy Thompson, for one, chose the Summit for his marriage proposal to now-wife, Tamisha. In a display of genuine romance and creativity, Thompson brought her to the Summit then showed her a photo album of many of the places they'd dated, with the last page picturing him at Tower Hill, proposing to her. What's more, Tower Hill was where they shared their first kiss!
"It was the perfect setting to propose to her," he recalled. "Nature is a big part of our lives, so Tower Hill was a perfect fit."

Incredible wedding and event locations, including the Orangerie and the Great Hall, that have led to Tower Hill being named Best Wedding Venue by both Worcester Magazine and Worcester Living, a Worcester Telegram and Gazette publication.
Romantic, picturesque views of Mt. Wachusett and Wachusett Reservoir from the Terrace and the Summit, which are especially beautiful at sunset.
In Tower Hill's many gardens, the chance to see and learn about several plants known for their aphrodisiac qualities, including ginkgo and borage.
Wonderful gifts for loved ones - especially those who love to garden - in the Shop.
Valentine's Day, in particular, fills Tower Hill Botanic Garden with romance. Some of the events and promotions planned for Valentine's Day 2013 include:
A free chocolate gift for the first 25 couples who visit on February 14.
A special guided tour that describes the powerful language of flowers and romance.
A Valentine's Day-themed menu at Tower Hill's own Twigs Café.
A Valentine's Day section in the shop, including the featured Top 5 Romantic Gifts for Gardeners.
Tower Hill Botanic Garden is indeed a year-round treasure, but Valentine's Day is particularly special. To learn more, visit TowerHillBG.org, or stop by any time!
Tower Hill Botanic Garden is the home of the Worcester County Horticultural Society, incorporated in 1842 for the purpose of "advancing the science, and encouraging and improving the practice of horticulture." Located on 132 acres of garden paradise in bucolic Boylston, Massachusetts, the Garden hosts educational programs, exhibits, shows, and special events throughout the year.