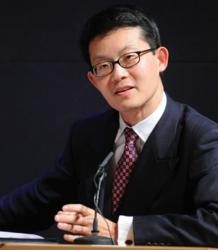 Tucson, Ariz. (PRWEB) January 31, 2013
SynCardia Systems, Inc., manufacturer of the world's first and only FDA, Health Canada and CE (Europe) approved Total Artificial Heart, announced today the publication of an article in the December 2012 issue of the British Journal of Hospital Medicine titled "The total artificial heart in a cardiac replacement therapy programme."
"The total artificial heart circumvents some of the limitations of using a left ventricular assist device alone, including right ventricular failure, refractory arrhythmias and surgical issues arising after myocardial infarction such as post-infarct ventricular septal defects," wrote the article's authors, Mr. James Barnard, a National Surgical Fellow in Heart and Lung Transplantation and Mechanical Circulatory Support, and Mr. Steven Tsui, Director of Heart and Lung Transplantation at Papworth Hospital in the United Kingdom.
On June 9, 2011, Mr. Tsui performed the United Kingdom's first implant of the SynCardia temporary Total Artificial Heart. Prior to the implant, 40-year-old Matthew Green had been suffering from arrhythmogenic right ventricular cardiomyopathy (ARVC), a heart muscle disease that results in arrhythmia, heart failure and sudden death.
On Aug. 2, 2011, Mr. Green was discharged from the hospital to wait for a matching donor heart at home with his wife Gill and their 5-year-old son Dylan using the Freedom® portable driver. Mr. Green has been supported with the Total Artificial Heart for nearly 600 days while awaiting a transplant.
Weighing 13.5 pounds (~6kg), the Freedom portable driver is the world's first wearable power supply for the SynCardia Total Artificial Heart. The Freedom driver is CE approved for use in Europe and undergoing an FDA-approved Investigational Device Exemption (IDE) clinical study in the U.S.
Read the full text of the article at http://www.syncardia.com/PDF_Files/BJHM.pdf
CAUTION – The Freedom portable driver is an investigational device, limited by United States law to investigational use.
###
About the SynCardia temporary Total Artificial Heart
SynCardia Systems, Inc. (Tucson, AZ) is the privately-held manufacturer of the world's first and only FDA, Health Canada and CE approved Total Artificial Heart. Originally used as a permanent replacement heart, SynCardia's Total Artificial Heart is currently approved as a bridge to transplant for people dying from end-stage biventricular heart failure. There have been more than 1,100 implants of the Total Artificial Heart, accounting for more than 290 patient years of life.
Similar to a heart transplant, SynCardia's Total Artificial Heart replaces both failing heart ventricles and the four heart valves, eliminating the symptoms and source of end-stage biventricular failure. Unlike a donor heart, the Total Artificial Heart is immediately available at SynCardia Certified Centers. It is the only device that provides immediate, safe blood flow of up to 9.5 liters per minute through each ventricle. This high volume of safe blood flow helps speed the recovery of vital organs, helping make the patient a better transplant candidate.
SynCardia Wins Two Gold Stevies® at 2012 American Business Awards
On June 18, 2012, SynCardia was honored with two Gold Stevie® Awards at the 10th Annual American Business Awards. SynCardia won "Company of the Year – Health Products and Services" and "Most Innovative Company of the Year – up to 100 Employees." See the full list of SynCardia Awards & Recognition, which includes accolades from Forbes, Fast Company and more.