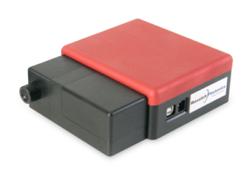 The Stroker f/1.3 miniature Raman Spectrometer is a breakthrough product with 15x more sensitivity than other products on the market.
LOGAN, UT / DURHAM, NC (PRWEB) January 31, 2013
Wasatch Photonics has been named a finalist in the 2013 Prism Awards for Photonics Innovation. Winners will be announced at the SPIE Photonics West Conference at the Moscone Center in San Francisco, Feb. 2-7.
CEO Gerald Heidt said the company's Stroker f/1.3 Raman Spectrometer will compete in the "Detectors, Sensing, Imaging and Cameras" category at the conference. The instrument identifies and measures substances by exciting a sample with a laser, then detecting the weak "Raman" signals produced from the interaction of the laser light with the bonds in the molecules.
"The Stroker f/1.3 Raman Spectrometer is a breakthrough product because it is fifteen times more sensitive than other products on the market. It measures samples faster and can detect lower levels of chemicals because of its unique design," Heidt said. "We are honored that it has been selected as a finalist in this leading international competition that honors the best new photonics products in the market. The Stroker and our holographic gratings are designed for the ultimate in high efficiency – in essence enabling our customers to 'get all the photons.'"
Heidt will attend the conference with Dominic Speer, Research Holographer; Mike Sullivan, General Manager; and William Brown, Vice President of Business Development. Wasatch Photonics will be located in Booth 8301 on Feb. 2-3, and Booth 301 on Feb. 5-7.
Heidt also will present a paper at the conference written with Speer titled "Holographic elements and holographic techniques used in photonics." The presentation will be Monday (Feb. 4) from 9:40-10 a.m. PST.
Wasatch Photonics is based in Logan, Utah and the Research Triangle Park in Durham, N.C.
About Wasatch Photonics Inc.
Founded in 2000, Wasatch Photonics Inc. (http://www.wasatchphotonics.com) designs, manufactures and markets enhanced holographic optics for optical networking, spectroscopy, test and measurement, and medical imaging applications. Our high performance Volume Holographic Optic Elements (HOEs) and gratings are used in a very diverse set of industries including those in the defense and security, chemical manufacturing, pharmaceutical, medical, energy, education, computer and electronics markets. Our products are based on proprietary holographic recording media and patent-pending "Dickson" grating technologies.