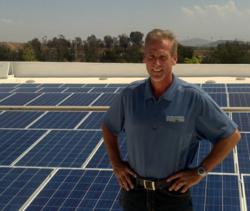 Where's my toolbelt?
Murrieta, CA (PRWEB) January 30, 2013
Ambassador Energy [AE] is just such a talent, as they not only distribute PV materials and install solar projects large and small, but they are also an accredited solar training company.
Executives, representing a Filipino construction firm, discovered Ambassador Energy's offering and put the entire project together, working with them to design the flagship system, procure materials, ship the equipment internationally, and make arrangements for an AE team to assist in the installation and training of their crews in Manila.
"Our CEO, Steve Fulgham, is very accustomed to working on a job site and volunteered to go," said Kelly Smith, president of Ambassador Energy in Murrieta CA. "He cut his teeth as a general contractor, has a long list of solar licenses and credentials, including NABCEP PV Installer and NABCEP Technical Sales, and says he does get enough time in the field. Well, this is his chance to swing a hammer again – in the Philippines!"
"I'm not thrilled with the distance to the job," Fulgham said jokingly, "and I guess I am not charging for mileage. But, international travel, especially when it comes to spreading the joy of solar, is always good for a change. Hmmm, where's my toolbelt?"
Fulgham will be joined by members of Ambassador Energy's installation team.
About Ambassador Energy
Ambassador Energy [AE] has a three-pronged business model, including Ambassador Energy College Solar Training, the Ambassador Energy Agency Program and Ambassador Energy, an EPC contractor. On staff are NABCEP Certified PV Installers, NABCEP Certified PV Technical Sales professionals [Fulgham/Kelso] and multiple NABCEP EL graduates. AE Agencies are nationwide. Ambassador Energy EPC installs PV systems throughout California.