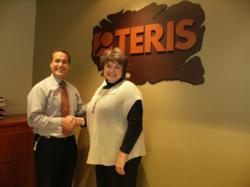 New Pathways for Youth Is successful because of the generosity and support of the Phoenix community including partners like TERIS, the Wells Fargo Foundation, the Virginia G. Piper Charitable Trust and Fiesta Bowl Charities.
Phoenix, Arizona (PRWEB) January 31, 2013
In January Richard Saldivar, President of TERIS Arizona and Texas presented Linda Lyman, President and CEO of New Pathways for Youth with a donation in lieu of printing and mailing traditional holiday cards. According to Mr. Saldivar, "New Pathways for Youth works to help at-risk and homeless youth in Arizona, a state which ranks 40th in the nation in child and youth welfare. TERIS is proud to support this organization which has positively impacted the lives of more than 3,500 youth with dramatic and desirable success." Linda Lyman, President/CEO, of New Pathways said, "we are so grateful for the in kind and financial support of TERIS. Their continued donations enable us to serve more children each year."
New Pathways for Youth was founded in 1987 and throughout its history has developed and acquired programs that make possible new futures for marginalized and impoverished children and youth in the greater Phoenix area through mentoring and value driven curriculum. According to Linda Lyman the story of Obed is one example of New Pathways for Youth transformative programs. "When Obed joined our program four years ago, he was on his way to being kicked out of his third high school, earning failing grades, experimenting with drugs and alcohol and fighting with his mom. He was matched with Bernie, a retired carpenter, who encouraged him to turn his life around. Since then Obed has graduated from high school with honors and has volunteered in many capacities with New Pathways for Youth. He is attending Arizona State University Barrett Honors College to study Astrophysics; is the recipient of the ASU Provost Scholarship and the Regent of High Honors Endorsement (AIMS Scholarship). Obed continues to volunteer with New Pathways; believing in the program so strongly that he has convinced his mom to be a mentor as well."
Programs include Positive Adult Leaders in Society (PALS) which pairs volunteer mentors with children who are experiencing homelessness from the ages of 5 – 15; LifeRoads, a curriculum-based mentoring program for Phoenix area at-risk teens between 14 and 17 years old; Exceed, a school-based program for high school students that helps teens focus on the goal of graduating high school; Quest Scholars, a mentoring program that helps high academically achieving students attending a Title I school through high school graduation and mentors them through the college application process; and the Garfield Neighborhood After School Program which is located in the Garfield Neighborhood, one of the most impoverished neighborhoods in the country. Less than 50% of the residents graduated from high school or own a home. This after school program provides licensed daily after school care for youth ages 5 to 15 at the New Pathways for Youth Community Center located at 1001 E Pierce Street, Phoenix. Youth who attend this program do better in school, report increased literacy and have a safe place to focus on homework according to New Pathways for Youth.
On February 28th, New Pathways for Youth will hold an Annual Breakfast featuring Key Note Speaker, Todd Graham, ASU Head Football Coach at the Arizona Biltmore Resort. Attendees will learn how New Pathways for Youth impacts at-risk and homeless youth, their mentors and the Phoenix community.
TERIS provides a streamlined suite of litigation support services which increase efficiency and lower expenditures during the litigation process. These client-based solutions are aimed at simplifying the document management process in order to ensure effective early case assessment. TERIS can offer assistance at all stages of litigation, from initial research through information management and data analysis.